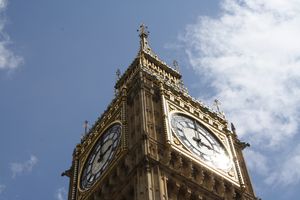 Up, up and away. We depart Derry city airport fairly early and are looking forward to getting to London and having some sort of routine again. Believe it or not being unemployed, travelling and living out of a suitcase that you have to lug everywhere takes its toll on you. (We can here your sniggers at that remark, but it's true). Being at Claire and Jonathon's was a saving grace, just having a familiar face, home cooked meals and our very own room was fantastically amazing. We have no where to live or stay when we get to London so priority number one is this, find a place. We know it sounds silly but London kind of just crept up on us, and we were so busy relaxing and site seeing that we forgot all about important things like having a roof over our heads in the coming weeks. Five minutes after landing at Stansted airport in London, Simone ever the efficient one is multitasking and calling short term flat stays whilst dragging the bags off the baggage carousel, Ben is on his iphone calling someone to try and get temporary accommodation at a hostel just for the next couple of nights, so we have a base. Both of these tasks for some reason are quite challenging and it is near impossible to source either. Damn London and its business.
Finally we manage to book a time later that evening (we learnt the hard way that you have to move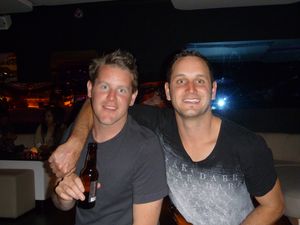 quickly on these things) to view a bedroom up for rent in Clapham which is available 1 July until 16 September, perfect considering we need to leave for Oktoberfest on 17 September! Fingers and toes are crossed the place is nice and the surrounding area is ok. In the meantime we get the Stansted express from the airport to central London, still with no where to stay for the night or week. By this stage Ben is getting slightly worried however for some reason reality hasn't hit Simone and she is cool as a cucumber. Finally the Lonely Planet bible is our saviour and we manage to land one of the last remaining rooms available in London which is not £500 per night, with this armed with luggage in hand, we head for high street Kensington station.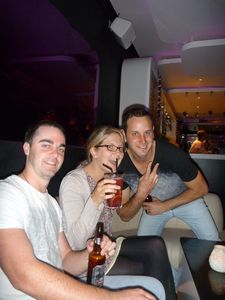 At first when we see a tube map we have to control the urge to freak out as it looks similar to perhaps a piece of artwork a child might create with a box of coloured crayons, with lines zigzagging all over the page in different directions. We finally work out the circle or district line is the way to go and head for home for the next night. Once arrived at the station we realise that we didn't note down any address or phone number for the hotel so all we have to go by is a name, much to Simone's frustration. We wander around aimlessly for about 15 minutes getting increasingly shitty by the second and even slightly delirious with cases in tow. It is then we make a landmark discovery, the bloody hotel is located in the street right next to the station, not even a two minute walk away. We again dump the bags and head off exploring, with Simone in particular need of some work attire, just in case she decides to land a job. We stumble across heaven on earth, a shop called Whole Food Market! For those of you uneducated people this is a large several level whole food organic market, selling only the most awesome and fresh food in the world. We loose ourselves in this multi level bliss and within seconds Simone is in the cheese room and is sampling items to hearts content (for quality purposes of source)! We decide this will be a good option for dinner, what with the extensive selection of organic bread, fruit, cheese, antipasto, drinks and chocolate, so decide to come back before closing at 10pm.
After much shopping and wandering (not a lot of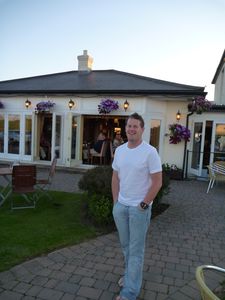 buying we are on a tight budget till employed) we decide to uncover Oxford Street (one of the main shopping strips of London) and rediscover Primark. Simone had previously been privy to the shop in Derry Northern Ireland with Claire where she picked up two pairs of shoes for £12 (about $12 AUD). In the mood for another bargain we headed in there. Hell on earth! Imagine Chadstone at Christmas with ferals everywhere magnified into one shop. It was the most mental store we have ever been in, you literally couldn't move. Unfortunately for our sanity but fortunately for our hip pocket Simone discovered a lovely light grey suit (jacket, pants and vest) for £20 (£35 AUD). Being a suit and UK sizing it had to e tried on, only problem was the fitting room queue was over 100 people long! Insane. After 30 minutes waiting she made it and after another ten minute queue at the registers we were out the door with a bargain, less some sanity. It was then off to visit our hopefully new home in Clapham. The location was great; we were right near tube stations and a two minute walk from Wandsworth Road Overground train, with plenty of buses. We were only a few minutes from Clapham Common, a main shopping strip with lots of bars, shops and restaurants + supermarkets. The place was great, our own nice room with cupboards, double bed and only one other couple to share with. For £640 per month we took it. Yay a place to stay.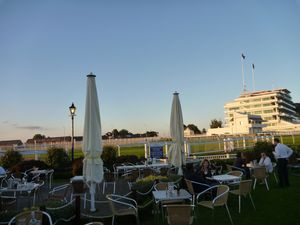 Time to catch up with Tom and Glen for some celebratory drinks, who incidentally happen to live only a few minutes away from our new home we later worked out. Well the celebratory drinks were so good we actually missed dinner plans and the Whole Food Market had shut. It was desperate times and they call for desperate measures which meant it was Maccas. There weren't even any supermarkets open! (Don't judge us it was literally the only thing open). We knew we would regret it in the morning. Saturday saw more accommodation issues and again we had to resort to lastminutedeals.com. There were literally no hostels or hotels under £500 available. The last place left on the website was a hotel, Holiday Inn in a place called Epsom. One hour and 30 minutes later and around 25 stations on we arrived, we were in the blooming country with sheep and fields everywhere. To be precise our hotel as we later discovered was right next to Epsom Downs Race Course, literally. The hotel was a bargain with the added bonus that it was clean and modern and in a very pretty location. Wondering what we were on earth going to do this far out from London we were recommended the pub across the road, which was pretty much on the race course. The evening turned out quite relaxing which was probably due to the bottle of wine we polished off. Great food, great wine, great location and great company, as well as a cute Westie at the table next to us. What more could you ask for.