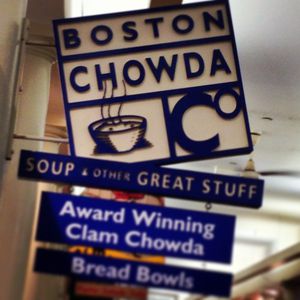 If you'd told us 14 hours ago that we would be posing for a selfie with ridiculous crab hats on we'd have probably laughed at you, but being on an international flight with unlimited access to spirits makes you do strange things, as your inhibitions go out the window. It was an early start to the day with the alarm set for a ridiculous 4.30am to ensure we made our international flight from London to Boston. The only consolation for getting up at this silly hour was the fact that we were going to be visiting a new country today, our 46th in fact. Barely alert all we cared about at this point was that there were bacon butties at the airport for breakfast, and we would find them at all costs and worry about the minor details like security, gates and boarding times after. Once fed and watered it was time to hit the road again and get on with getting to Boston. Our flight was half empty, which was all the better for additional beverage services and we wasted no time utilising the somewhat unlimited access to alcohol that comes hand in hand with an international flight. The great thing was that no one judged us; in fact the flight attendants went out of their way to remember our orders. By 11am London time we had already consumed 4 drinks which was all the more interesting when we realised that we gained time flying and it was only 10am in Boston. We'd come prepared and as soon as we landed it was straight on the train to the city center, where when we arrived at street level, we were greeted by several lush street food vans ... yum!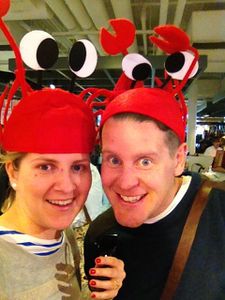 After a slight indulgence and some basking in the sun we dropped our bags and went off to do what we do best ... explore. After walking the Greenway a long stretch of park on the outskirts of the city. Our next decision was to walk the Freedom Trail and follow in the footsteps of Colonial rebel rousers. The Freedom Trail takes in pivotal sights by foot giving an insight into the birth of the USA. Armed with a map and Ben's exceptional navigational skills and on occasion Simone's (although not often), we meandered through the beautiful streets and old historic buildings that make Boston the exceptional city it is today. We started at Boston Common a beautiful park in the center of the city and took in sights including State House, The Benjamin Franklin Statue, Old North Church and Copp's Hill Burying Ground. After much walking it was then time to visit the original Cheers bar for a refreshment from the popular American TV show. After some obligatory happy snaps. We woke the next morning early and set off on one of those cringe worthy city tour buses, which in this case was a tram, which in America they call a trolley ... bizarre. It was the best way to get around the city and see everything that we wanted including a special visit to the area Cambridge and the famous university Harvard. With a slightly erratic bus driver who insisted mounting nearly every curb and talking with his hands whilst driving, we felt lucky to make it back to Boston alive. By this time we were starving and it was time to visit Quincy market famous for its market stalls, street performers and food vendors. We decided that it was time to try some of the local specialties; unfortunately this involved Fish Chowder, which doesn't look appetizing at the best of times ... but when in Boston. We managed to down an array of eclectic snacks, some of which at the time we thought we might regret later. This included a sample of fish chowder, scallops wrapped in bacon, crab cakes, scallop pie and macaroni cheese, it was a lot of fish and was surprisingly delicious. The food vendors were inundated with people wanting to try their creations, apart from the man selling duck, which he couldn't even give away free to people ... duck just wasn't the business that day, as we returned a few hours later and he was still trying to hand out samples with no willing takers.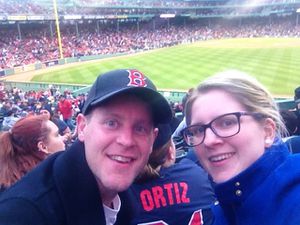 After stocking up on food it was time to make our way to Fenway Park along with what felt like all of Boston to watch the Boston Red socks play the New York Yankees in a proper baseball match. We couldn't help but get caught up in the electric atmosphere. There didn't seem to be a single person not donning some piece of Boston Red socks merchandise and doing so proudly. Once in the park, you were spoilt for food choice with popcorn and chips served in baseball caps and every kind of food you could just about imagine and yes we know your thinking it .... we can confirm that even the Boston Chowder guy was run off his feet selling fish soup to people, which is exactly what you want at a sports match. What was really interesting was the display of patriotism when the American national anthem was played, with hands on hearts across the stadium, you could hear a pin drop it was that quiet. After the usual celebratory first pitches it was time for the game to begin and as expected there was quite a bit of heckling from the crowd, particularly for one player Ellsbury who had moved to the dark side and joined the New York Yankees, with some spectator signs referring to him as Judas! Talk about not being liked. After a further bit of bar hoping we got chatting to a local guy at a bar who seemed really nice and appeared to be well known by the locals, however when he offered us a lift in his car, we couldn't help but refer back to the first rule we were taught as children 'stranger danger' and politely declined the lift, knowing our mums would be proud. It was time to rest our weary eyes for tomorrow we would embark on the one and only Big Apple.