So after visiting the sleepy town of Menaggio, we crossed the boarder back into France to visit the seaside city of Nice and to mingle with the rich and famous in Monaco. The hostel we stayed in was an old converted monastery, which made for interesting surroundings. Our 11-bed dorm was less interesting and the filthy bathroom even less so. After spending less than ten seconds in the fantastic equipped bathroom Simone had managed to break the towel rack off the wall and demolish the shower curtain. Superb quality for 35 euros each a night. There was no point hanging around here, so we freshened up as best we could in the a shower that looked like it hadn't been cleaned since being installed ten years ago and headed out to explore town. The main streets were alive at this time of night and restaurant workers were putting on their best act to encourage you to eat in their establishment. Each of course thought their place was the best. We settled for pizza and gnocchi- so very French and it was surprisingly tasty despite being in a tourist hotspot. It was then off for a quiet wander through the old town, that was until we stumbled across a parade and performance along the beach front which was providing entertainment for at least 10,000 people. The following morning we took a stroll through the morning market which had an extensive array of eclectic antiques.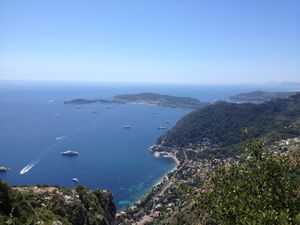 It was then onto the many city square to catch a bus to the small little town Eze followed by a meander in Monaco. The bus queue if you could call it that, was quite entertaining. There wasn't an orderly queue, but everyone definitely knew their spot. The bus conductor was really enjoying asserting his authority as each bus arrived. As soon as the bus bound for Monaco pulled up, chaos broke out and despite the conductor's best attempts to regain control - he failed dismally. We were keen to check out the town of Eze as it had been recommended to us by several people. Perched on top of a small hill it offered fantastic views of the Mediterranean coast - which looked picturesque. We meandered through the winding cobblestone streets before settling down to eat our packed lunch. Now don't laugh at that - it's called being thrifty!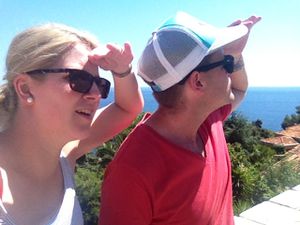 Once satisfied we continued exploring and even managed to find a pin of the little town to add to our massive collection. It was a bargain at two for four euros. The shop assistant insisted on giving us the second one for free, probably because they hadn't made a pin sale in years and couldn't even give the damn things away. The only problem was that we now had two of the same 'Eze' pin and we were 100% sure that no one else would want it. After scoping out Eze it was time to actually mingle with the rich and famous, or at least eye of their yachts from the pier. Before we could get to Monaco though there was one slight problem - we had to catch the right bus to get us there. We should have gone with our instinct, as we had this feeling that we were getting on the wrong bus even though the bus driver stated otherwise in muddled English.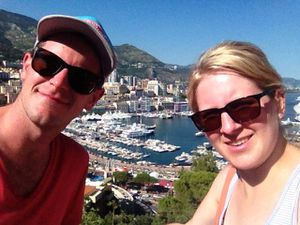 You'd think the fact that the bus didn't mention Monaco anywhere would be a dead give away. Ten minutes later the driver insisted we get off the bus on a deserted road, with no bus shelter in scorching 38-degree heat - just brilliant. So the next best thing was to make words out of car number plates... we were really living the dream. We'd somehow got it wrong. Most people seem to go to Monaco to splash out thousands of euros on the casino, or digest delicious meals or even drive fast cars. Us we couldn't even make it into the country by public bus. We eventually made it into the country and set about exploring. We took a stroll along the marina, which had some of the best yachts we had ever seen. This was clearly a marina for people who had a different yacht for every day of the week. We obviously weren't part of this club, well clearly not with a 70-euro a day budget.
It was then onto the famous Monte Carlo casino. The only room we could get into without having some serious cash was the pokies room - which had amazing architecture and a minimum 40-euro spend. No expense had clearly been spared when decorating the casino, as it was lush! We then wandered down to the casino souvenir shop where Ben tried out his French by attempting to buy a pin - about the only thing we could afford. The shop assistant got so irritated with Ben's attempts and lack of ability to articulate the French word for 'pin' that she refused to address us in any language other than English. Next on our list was the old fort and royal palace, which didn't disappoint. The remainder of our time in Nice we used to explore the old town visit the beach and to tuck into some of the best ice cream we had eaten so far at a little place called Fenocchio's which offered a dismal 100 plus flavors.