Italy - Lake Como (August)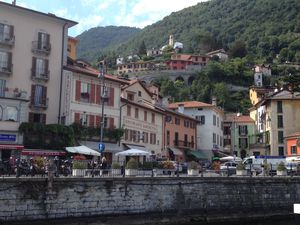 It wasn't until we really reached Lake Como that we realised it wasn't the size of your average pond, but much much bigger. We got to the town Como only to realise that our town Menaggio where we were staying for the next three days was about a two-hour ferry ride north along the lake. Perhaps we should have reviewed our circumstances a little more before arriving. After the slight oversight we managed to hope on board a ferry and navigate ourselves in the right direction. The ferry ride was surprisingly lovely. With the sun beaming down on us we were able to get a true idea of the size and shape of the lake - which definitely surpassed all prior expectations and knowledge. Lesson number one: Never assume a lake is small - just because! We were really learning a lot this afternoon in Italy as lesson two came quite quickly after the first.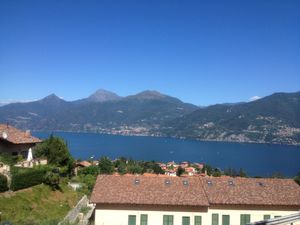 Never skimp on research about where your hotel is located in comparison to the city center. Once back on dry land we were down a map and no one really spoke English. Excellent! We were up shit creek (or in this case Lake Como) without a paddle. After much covert work by the pair of us, we realised that our lovely hotel was a 15-minute drive out of town; up the steepest hill you have ever seen. Great one! It would all be ok though as the hotel and our room offered breath-taking views of Lake Como apparently. Now we like to think of ourselves as thrifty travellers and when travelling for four months, you take catching and paying for a taxi very seriously. Running to catch a very early flight (5am prior) or severe illness are about the only valid reasons to fork out cash. As we fell into neither of these categories, public transport was the key.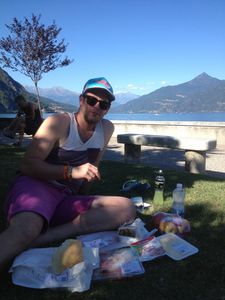 After much fussing, a near argument with the seller of the bus tickets and nearly loosing our luggage on the bus - we finally arrived at Hotel Adler. We later found out that taking the bus saved us a massive 5 euros. We say - better in our pocket than theirs. The thinking of a true traveller. Busting to get to our room, which promised a flat screen TV, stunning views of the lake and not to mention toiletries, we could hardly contain our excitement. We'd spent a little more here than in our average run of the mill eight-bed dorm room - so we expected so good stuff for it. What greeted us was a slightly different situation to our prior expectations. The flat screen TV was so small you needed to squint very hard to see it and well the views - the amazing views. You could only see them through our side bathroom window - and only if one of us lent out the window and the other person held the others feet for safety - to prevent us from plummeting to our death. After settling in and finding our bearings we walked into town, which took a good 35 minutes - but thank goodness it was all down hill. One slight minor issue was that there were no footpaths what so ever which meant playing Russian roulette on the winding road full of blind corners. Several times flashes crossed our mind about the fact that this actually felt more dangerous than running with the bulls a month prior!
Once in town we treated ourselves to a nice wine by the lake. Later on that evening we had a lovely meal in a little family run restaurant that included lasagna and potato gratin - of course washed down with more wine! Delicious! The idea of our stay at Lake Como was to have a relaxing few days and that is exactly what we did. After a lazy lie in the next morning and stuffing ourselves on the free breakfast included (perhaps a little too much) we wandered through the old town of Menaggio and looked at the quaint shops that lined the streets and got lost. In the late afternoon we grazed on a picnic by the water which included cold meats and cheese. We had the opportunity to also pick up a 5 liter bottle of wine for cheap from the supermarket - but didn't only because we couldn't physically carry it. In hindsight perhaps that decision was an oversight. Simone also had a chance at the supermarket to demonstrate her fine Italian language skills by ascertaining whether the supermarket was open on a Sunday - this really only involved saying two words to the checkout assistant, followed by an awkward silence, some confusion and then clarity. The rest of the afternoon involved gelato and wine - the essentials in life whilst watching the sunset over the lake.... perfect!