Switzerland - Lauterbrunnen (August)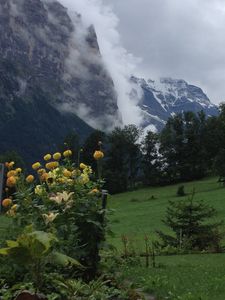 Arriving at Lauterbrunnen around 7pm, we'd done a fleeting stop in Bern Switzerland's capital. Literally we dropped some people off the bus stretched our legs for five minutes and were off again. In hindsight we kind of wish we'd stopped there proper – but with only three and a half months to travel it just wasn't possible 'sigh'. Now if you're not familiar with Lauterbrunnen then there's one word to describe it – stunning, actually that doesn't even do it justice. It is the valley where 72 waterfalls and yes we know what you're thinking – each of the 72 waterfalls has a name and no we won't name them all. More importantly at Camping Jungfrau where we are staying we were given this cute little caravan where from our bed you can gaze up and see one of the largest waterfalls called Staubbachfall which is a beautiful natural wonder. Our caravan is this quirky little house on wheels that looks like it's from about 1960 and it kind of makes you want to take off into the sunset exploring the world with it in tow. Except we don't have a car and it's wheel clamped so it isn't going anywhere. After opening every window and cupboard in our caravan which surprisingly took 15 minutes or so (let's be honest we all do it) it was time to think about tea. Nachos it was, only problem was we had no oven – so raw nachos it was. You just have to be resourceful that's all there is to it.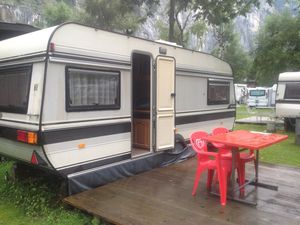 Next morning we'd love to say that the sun was beaming down on us and make you all jealous but it wasn't. In actual fact it was such miserable weather you just had to get out and make the most of it anyway. It would have been easier to just stay in bed but those of you who know us – which should be everyone reading the blog (awkward otherwise) know that it takes more than a little bit of rain to stop us getting out and exploring the Swiss Alps. Armed with waterproof jackets, six museli bars to be precise, water bottles, a map that was not really English, a sharp Swiss armyknife and headphones what could possibly go wrong with storms forecast? Point to note: travel first aid kit located back at campsite. Let the fun begin. So after walking through the town of Lauterbrunnen we decided to hike to a town called Murren which taking the 'easy' hikers route would take us one hour 30 minutes.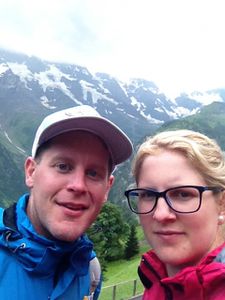 Into the hiking trail only five minutes Simone started whining constantly that it was way too steep and we'd only walked ten meters. In all fairness the gradient was ridiculous. After about 15 minutes of moaning she gave up realizing that this was using valuable energy and then kept quiet. Although bloody hard work the terrain was awesome with all kinds of nature around us. Taking the time to look at it made us realise how beautiful and untouched it really was. Hiking on our own we saw no one – it was like we were miles from any civilisation, carefully navigating crossing fast flowing rivers where bridges were washed awayand climbing really step and rocky terrain. After two hours climbing constantly at an extremely steep gradient we decided to break at a rest stop (an abandoned hut). We were slightly confussed by this point – the easy trail should have only taken one hour and 30 minutes and we'd been climbing for at least two hours. Ben got a little sentimental and decided to carve our names into the side of the hut like many before him had. Meanwhile Simone was lucky enough to come across a 4 July edition of the UK Daily Mail and took time to catch up on some not so recent news. All of a sudden there was commotion and it went from a tranquil peaceful environment to panic stations and the abandoned hut was turned into an emergency room.
Ben strolled in looking rather lightheaded - blood spurting from his finger. Simone quickly took over and got Ben seated before he passed out. The few scraps of toilet paper we had were wrapped around his finger and it was elevated to constrict blood flow. It was all systems go. The stupid finger just wouldn't stop bleeding - only problem was the first aid kit was 1000m down the mountain and in all honesty the cut looked like stitches were probably best. Looking around madly in the backpack Simone found some headphones and was able to tightly wrap these around Ben's finger permanently to stop the blood whilst hiking. After a 20 minute delay it was back up the mountain to God knows where - because we didn't really have a clue/ Three hours later in total and a few mountain goats along the way we reached Murren +1638 above sea level. Turns out we had taken the 'seriously experienced' hikers route and sliced a finger off along the way. In total we'd climbed 1000m up the mountain, which was tough as. Murren was a nice little town buried in the Swiss Alps which were just breathtaking to see so close. Murren itself was somewhat stuck in the 1970's and eerily deserted like out of a horror movie. It was then a one hour 30 minute hike down the mountain where we passed through the towns Gimmelwald and Stechelberg stopping for many photo stops and the odd spot of cow herding in the Swiss countryside.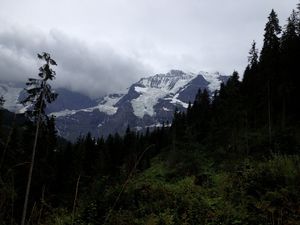 It was then another one hour and 30 minutes back to Lauterbrunnen where we started, by which stage our 27/28 year old hips were screaming out like they were 90! After beginning at 12 noon on a casual afternoon relaxing stroll, we arrived back at campsite at 6pm drenched to the bone, half a finger less, a few rolled ankles and down four muesli bars - but loving life and what we had shared together that day.