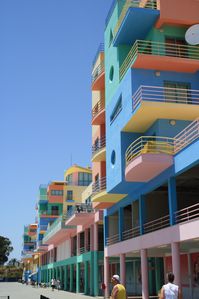 With only a short time here we decided to skip any tours and just do the wondering ourselves, I mean the opportunity to return was almost guaranteed only being a 3 hour flight from Belfast, it would be like going to Daylesford in Victoria for the weekend but closer! Planning to get up the night before at 4:30am to catch the sunrise, this so didn't happen, we actually slept in until 10:30am and by the time we'd showered and had breakfast it was nearly noon and we were way behind schedule. Not to worry we had Palo and the destination was the local marina in Albufeira, a reasonably new development which can't be missed, with each terrace and shop front painted in an array of bright colors. Here we had a spot of lunch by the water and then continued onto the 'New' town to wander through some more shops and stalls whilst effortlessly working on those tans. Life is tough; we of all people know that right now, we have to live this nightmare! Dinner saw us seated at a nice seafood restaurant on the beach back in the old town where we dined on champagne sangria and delicious seafood paella along with mushroom linguine.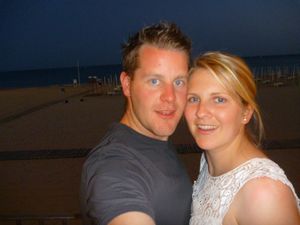 Followed by a stroll on the beach and pier at sunset (apparently sand is good for your feet) and the opportunity for some perfect photo snaps. It was then back to the bustling alleys for some more drinks and shopping. With street performers out in abundance and with the cobblestone streets now bustling the atmosphere was grand. After getting our names and roo's drawn in stunning picture art along with a few other travel mementos it was then a brief cab ride back to the apartment to rest our weary eyes. A new day, a new dawn and a new challenge, to navigate to Vilamoura and also the renowned gypsy markets of Quarteira.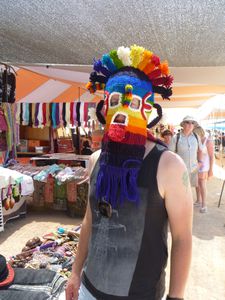 After getting slightly lost on our way and after getting many 'beeps' to get out of the overtaking lane which is on the left (how backwards), we finally got onto a dirt road and all of a sudden the traffic turned to chaos and we were amongst it, the Gypsy markets of Quarteira trying to guide Palo (a polished black BMW) ever so hot, through this commotion unscathed was a logistical nightmare, but with the A Team + 1 onto it we got through it ok. The gypsy markets were never ending with lots of noise and stall holders vying for our attention. We spent a lot more than we intended, being a whole 2 Euros on a traditional Portuguese tea towel for our mums. A lot of clothing and manchester items were for sale; however we had no room in our luggage for these trivial items anyway. Glad to be out of the markets we then ventured onto Vilamoura which Brian and Stacey had recommended. Similar to Port Denarau in Fiji, this newly established town situated on the marina was sprawling with restaurants and boutique shop fronts.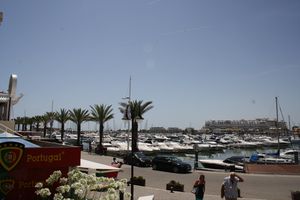 Strolling along the beach we spotted a nice restaurant on the beach for lunch which had cute couches on the beach and private bungalow sun lounges…. perfect! That was until we were advised that it was 100 Euro ($165 AUD) for the sun lounge plus the cost of food … yeah ahhhh no thanks. We then settled for a modest restaurant on the marina for a nice late lunch followed by some more browsing. Grabbing a few items from the supermacardo on the way home to whip up a nice chili pesto and pepper salami pasta with a few homemade crafts of sangria. Getting up late again there was just enough time to get back to the airport on the A22 to Faro before saying our goodbyes to Paulo and scrapping in with only five minutes to spare before our flight gate closed. (The lateness use to be an anomaly at airports but now it is becoming disturbingly frequent). With the whole handbag in the backpack reenacted AGAIN and few small souvenirs to add to the drama we were finally able to make it onto the plane. Touchdown, Belfast rainy with storms predicted, we expected nothing else. Belfast stamp in passport…. check, return bus trip and home to Claire, Jonathon and Roo, before flying out again tomorrow to hit the big smoke in London.