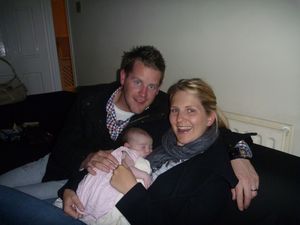 "On the road again, just can't wait to get on the road again, goin' places that I've never been, seeing things that I may never see again and I can't wait to get on the road again. Like a band of gypsies we go down the highway and we're the best of friends, insisting that the world keep turning our way and our way is on the road again". We catch a bus from Dublin to Derry to catch up with our good friends Clare and Jonathon and their wee wayne (baby) Sophia. Of course we picked up our mandatory bullet proof vests on the way, because you just never know in Northern Ireland. It was great to see some friendly familiar faces and to meet the gorgeous Sophia who we've nicknamed 'Little Roo'. A night of Chinese tapas and drinks at Karma was on the cards and it was then that the real catching up began.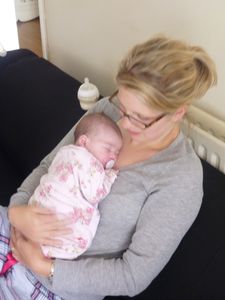 The next couple of days went by and we caught up on some much needed R & R. The couch, open fire and Sky (Foxtel) got a great workout, as it was a much desired change of pace after three weeks on the go, but what we most enjoyed was having a bed to sleep in for more than one night. Bottom line is we don't have to pack up and leave in the morning. We've spent almost a week in Derry to date and it's been fantastic. Some might be pleased to know Simone not only concurred her fear of baby's but has also discovered her natural maternal instincts much to her own astonishment. Accomplishments include holding, feeding and nursing Sophia (even when crying) and assisting in basic nappy changing tasks such as passing clean clothes, open windows for ventilation etc. We are even discussing the possibility of having our own 'Little Roo' whilst over here. Only joking!!! (Sorry Mum's). The health care is ten times better for newborns over here. Just something to think about.
The week wasn't all TV and baby nappies though. We made the most of the temporary base and seeing as Northern Ireland is technically the UK we set about doing the running around to organise ourselves to live and work in the UK. We booked in and had interviews for our National Insurance Numbers (NIN) which is a necessity to work in the UK and is similar to a tax file number for those playing at home. Ben attended a full day course to get his CSR card, the equivalent to a red card in Australia and something that you must have to be on a building site over here. Bank accounts were next on the cards, a process that was surprisingly easy. After hearing so many nightmare stories, we just walked into HSBC and they set us up with an account that was suited to people in our situation that have just moved to the UK. It was just too easy, except the fact that Simone's card might have gone to Australia (sorry mum, we ordered another one to the correct address this time so just ignore it when it arrives). We set about job hunting and within a day or two Simone has a couple of interviews lined up on arrival into London with some temp agencies and Ben has a job waiting for him in London with an Australian tiling company working on a big job at Harrods the department store. So… NIN (check), bank account (check), CRS card (check) and job hunting (check). It has been a very proactive couple of days, with a big thanks to Clare and Sophia for running us around absolutely everywhere! All we need now when we arrive in London on the 24th of this month is somewhere to live. So the house hunting begins.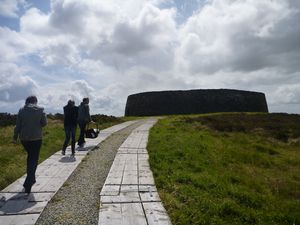 It wasn't all work and relax whilst in Derry, Jonathon took a few days off work as Clare and Jonathon wanted to show us a proper good time in Derry, so with the four of us and Roo neatly packed into the car we set off for a tour of county Donegal. A large stone walled fort located on a hilltop known as Grianan Ailligh, commanding views over Laughs, Foyle and Swilly and counties Donegal, Derry and Tyrone was our first destination. The fort is estimated to have been built around the birth of Christ, with a restoration last performed in 1870 and is in remarkable condition considering. The views from here are both breath taking and a good point for weather forecasting should this take your fancy. This was particularly useful when you can see a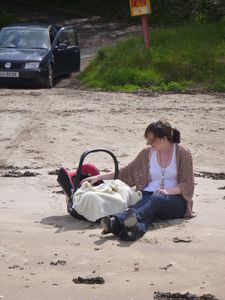 storm approaching and you are atop a hill with a baby and have all of five minutes to get down off the fort walls, down the hill and into the car before the heavens open on you. With this we hot foot it back to the car pronto. Next stop Inch Island. Now some Irish will tell you it's impossible to get lost here as the name suggests, but for the record let's just refer to it as lapping the island twice without realising along with encountering the only dead end, such bad luck, either that or bad navigation? I mean who puts a road to nowhere on such a small island. In these accidental travels we did however come across a cute little beach inlet which was too tempting to pass on by, so we made a brief stop with Jonathon parking the car on a neat slope on the beach in soft sand. This was mistake one. The second became apparent when Clare and Sophia were sitting quietly on the beach whilst the rest of us were exploring rock pools when the car suddenly had moved forward and was rolling down the beach. Ahhhh the handbrake!
After finally managing to navigate off Inch island next stop is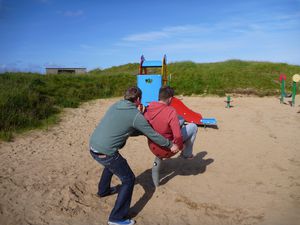 Malin and the stunning Caldaff beach which does actually somewhat resemble an Australian beach. This beach holds a special place for Jonathan as it is the beach his family spent their summer holidays during his childhood. As we discovered the playground has since had a revamp, which of course meant we had to check out its suitability along with safety capabilities, and lucky we did. Upon inspection we discovered the most innocent piece of equipment was in fact the most deadly. Similar to a short pole with a bucket on top, it looked unusual so instantly it got our attention. After a few spins each, Ben and Jonathan were just about crying and screaming out for it to stop and were unable to walk straight for a few minutes after. Nasty and highly unsuitable for kids is our final assessment!
We see a few more beaches on our way around the Malin head road which is the most northerly point of Ireland then we make our way back across the border home. We pass many small towns including Cock Hill and Muff, of which we just have to stoff and take a picture of the street signs as they are so inappropriate. That night Jonathan treated us to some homemade Thai curry, it was spot on.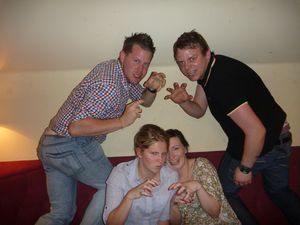 Some nights we would cook for Clare and Jonathan, more for our enjoyment then theirs, but they loved our home made pizzas especially the nacho pizza, Simone's pot pies topped with gnocchi and her homemade apple and berry crumble. One night Jonathan's parents invited us over for Irish stew which we were corrected, it was a "Derry stew", either way it was delicious. Of course there was a lot of drinking and one particular night Clare's parent's baby sat the wee roo and we hit the town. First to a bohemian style bar called Sandidos, home of the best Guinness in Ireland according to Jonathan. We met up with Jonathan's brother and some others and headed to another bar that had an Oxfam charity fundraiser and so we joined into the TAB style, night at the races. We met some funny people who believe Australia is exactly like Home and Away, ( the TV show) and as we did not want to crush their dreams we explained that we only ate at the "dinner". They also had a raffle and of course Ben won a massive bottle of Smirnoff.
With Jonathan always trying to please he was looking at what touristy things we could do, we chose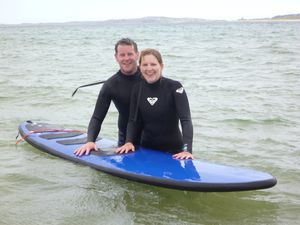 surfing. Ireland has some of the best surf in the world, "who would have thought?" And like everyone in Ireland Jonathan knows someone who knows someone who runs a surf school. So surfing we went. We meet the class at the office in Derry to get fitted for our full body wet suits, "you couldn't go in the arctic water without one" We then drove to Ballyliffin beach in Donegal to catch some waves. Once there we squeezed into our wet suits, Simone struggled a bit more with hers as her boots were both right feet and one was a size a 6 and one a 9 even though she asked for a size 7, we then grabbed a board and hit the beach. The one minute lesson was both informative and reassuring. A quick dip in the water to acclimatise then we took to the waves. Ben is a natural and got up on his knees the first wave he tried and by the second was on his feet, fricken show off. It was an awesome feeling and experience surfing in the Atlantic Ocean. Simone was not such a fish to water so to speak but her irrational fear of water didn't get in her way, she too had a great time and after an hour or so she too was surfing waves.
Knacked and buzzing after an amazing day we cleaned ourselves up and went out for a nice dinner and more drinks to chat about the days events and try to convince Clare to come to the next session with us seen as this was apparently Jonathon and Ben's new hobbie.