"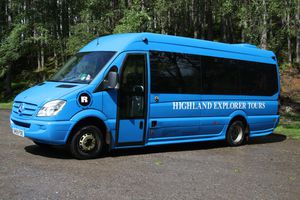 There's a lady who's sure all that glitters is gold
And she's buying the stairway to heaven.
When she gets there she knows, if the stores are all closed. With a word she can get what she came for.
Ooh, ooh, and she's buying the stairway to heaven.."
These are the lyrics currently consuming Glenda our Haggis tour bus. The reason for this song is we are driving past Loch Ness, the place where Jimmy Paige wrote the famous Led Zeppelin song 'Stairway to Heaven' about his own daughter who drowned in the Loch. This is one of the countless stories told with passion by our tour guide Stevie.
Haggis tours are partnered with a charity called Trees for Life, an organisation trying to save and replenish the Caledonian forests of Scotland, one tree at a time. Its here we take a walk around the parklands they are protecting and we meet the herd of wild boar they keep on their land. If not for the horrid weather and wet conditions under foot we would have planted our own trees to play our part and represent our group however Stevie has promised to do it on our behalf.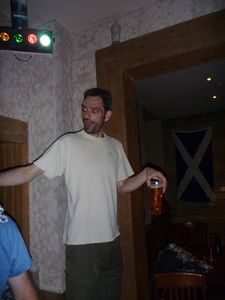 After being in Scotland for a short period of time we have already discovered the characteristics to look for in a wild and sexy Scotsman, being a never ending well of stories, the impression that the Scotts invented everything, the ability to curse heavily and the finally to have the imagination of a child. Our tour guide Stevie has all of this and more. His resume is endless and includes experiences such as a dairy/beef farmer, serving in the army, life guard, flying planes in Africa, climbing Kilimanjaro and Everest (several times), fighting off wild bears whilst in Canada, taking tours up Swiss/French Alps, shooting the first cow with Mad Cow disease, out running a wild boar, being on first name basis with everyone in Scotland and that is just the start. Only a few days into the tour and the group breaks into hysterics every few minutes when Stevie starts a sentence with 'I'll tell you about a time I use to…' or 'I have a mate who…'. There is no shortage of good times and great stories.
Now all this story telling and laughing is hard work plus a few of us have sore throats, must be time for a Whisky Distillery visit, so we make our way to Glen Ord distillery for an interesting insight into the making of Scotch Whisky and a we dram. The fumes in the barrel room alone were enough to get you trollied (as Stevie would say). We then cracked onto the wee port town of Ullapool where we devoured some of their world famous fish n chips. We then caught a 3hour ferry to the Isle of Harris and the township of Stornoway.
In the stornoway hostel we came across a very strange German who would become both feared and the butt of all jokes for the rest of the trip. Hans as he affectionately became known was somewhat of a weirdo that was yet to be caught; he took a particular likening to one bloke in our group Jeremy. The feelings were in no way mutual. For the next couple of days Hans would stalk us all over the Isle and we learnt to sleep with one eye open.