Tuesday, 31 May - Wednesday, 1 June 2011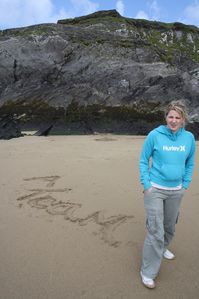 Continuing on our ultimate Irish adventure days two and three see us cover quite a bit of ground in some fecking miserable weather, through Aghadoe Heights. It is here where we catch a glance of the Kilanney National Park followed by a drive along the Dingle peninsula for a spot of lunch and to meet Funghi the awesome Dingle dolphin, who was kind enough to allow us a ride and photo, after which we were slightly star struck. The rest of the afternoon saw our 48 person strong tour head west along Sleighhead Drive which is a long coastal stretch of road where we stopped for photos at Coomemoule beach and Clogher beach, each offering beautiful views along with the brief opportunity to dip our toes in the Atlantic Ocean and write our names in the sand. Before reaching our final destination of Ennis for the night we had a brief stop in the town of Adare 'the wedding capital of Ireland' which has picturesque surroundings. The night ended with some live Irish music where the craic was grand, which is Irish for a good time had by all, but could obviously be interpreted differently elsewhere in the world.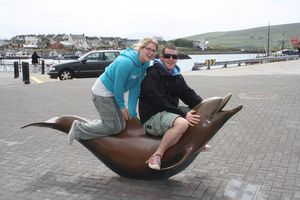 The following morning sees us wake to another miserable day in terms of weather, but spirits are high. When is summer coming? We nip up to the Burren Park, to view Polnaboron Dolmen an ancient burial site which predates Stonehenge. On tours so far this seems to be the historical marker. For if you predate Stonehenge then you are doing pretty well and are one up on the English and able to boast. It's on the way to the Cliffs of Moher where our tour guide Sean decides to discuss some of the weird and wacky superstitions that many Irish have. One of which is the fact that you should never ever walk into the middle of a fairy circle and you must of course always walk clockwise around them, which now comes as second nature otherwise its bad luck for seven generations. Sean also fel t the need to highlight his issues with seeing Magpies idle on their own. Apparently one on its own means sorrow, nether less he feels that if he sees one he should solute it to transfer the sorrow onto someone else. The bloody Irish I tell you are crazy. Here we are travelling around Ireland with a tour guide frequently saluting Magpies from the tour bus. After this informative session we stop at an actual fairy circle and although everyone thinks that what we have been told is a load of Blarney no one dares to challenge it as we all trapes around the circle clockwise, ever so careful not to walk into it, just in case there is slight truth to the myth.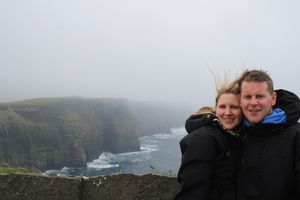 On approaching the cliffs of Moher, they were literally nowhere to be seen, as the fog was extremely heavy, so we decide on a detour to the town of Lahinch the surfing capital of Ireland for a bite to eat and to watch the crazy surfers in 8 degree weather. On return to the cliffs the fog was still quite thick but we made the trek to each of the many viewing points and managed to get a couple of snaps of the cliffs partly covered in fog. At one point our group wandered over to the castle at which point a quick gust of wind cleared the fog and the cliffs were visible for all of five seconds and we were lucky enough to capture this. It was then onto the city of Galway for a group dinner at Busker Brown's before turning in for the night. Worthy of a notable mention is the lack of building planning at the Galway hostel with the reception located at the top of six very long stair cases and our rooms located a further two flights up, where a nap would be required just to recover from moving our cases at this altitude.