Toto we're not in Kansas anymore…… no Dorothy we are in Istanbul!
From Munich we thought we were catching a budget airline… good for us we were wrong. As soon as we got on the Lufthansa plane around 7pm the food and drinks started flowing. We polished of a few glasses of sparkling wine which got rid of Simone's tooth ache but also almost put her to sleep and had a nibble on some food. On arrival at the airport we were greeted by airport staff on segways, roller blades and scooters, talk about full on. With a pay at the door system, getting a visa was easy as long as you paid in Euro's or US dollars, so they were not too happy with our pound. We arrived at Istanbul about 11pm and driving through the streets to our hotel we got the same rush we wrote about in our very first entry. Speeding through the streets not really stopping for traffic lights, our taxi driver got us to where we needed to go. With an unofficial population of 16 million Istanbul which is not the capital of Turkey is increasing in size rapidly each year as is its tourism industry.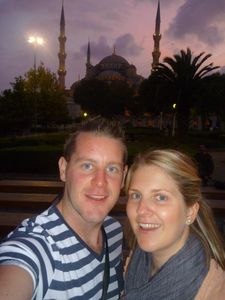 Unknown to many here you can retrace the steps of the Byzantine emperors when visiting Sultanahmet monuments and museums, marvel at the magnificent Ottoman mosques and wander the cobbled streets of the ancient Jewish, Greek and Armenian neighbourhoods. The area we are residing in over the coming days is Sultanahmet, which is in the European area of Istanbul. Over the bridge is the Asian quarter, as the city is technically spread over two continents Europe and Asia. On making our way to our hotel one thing we notice is how many Turkish flags we saw, which were everywhere atop houses and flag poles. The second thing we noticed was how dingy the area was where we were staying and saying we were extremely unsure at first was an understatement. Needless to say we arrived safely and the hotel was still open at midnight and the streets were still buzzing. Let's just say our room and its decorating style were alternative but it was safe, clean and cheap, which was all we needed, we couldn't go around Eastern Europe on a five star hotel budget. The next day saw us have a good sleep in after finally hitting the hay about 1am. After waking we freshened up and took our ridiculous load of travel brochures to lunch in the main street to look at over a bite to eat. Lunch was delicious and we ended up grazing on flat bread and a selection of meze including mainly dips. We also tried 'Raki' a traditional drink which was nasty to say the least and like drinking ouzo straight way to early in the day. Talk about OTT (over the top). The meal was so cheap only 35 Turkish lire which is about 15 Euro's, which is about $25 AUD. This trip is going to make us really good at currency conversations. We then jumped on a red hop on hop off bus, yes they have them in Istanbul and we checked out the sights including; Topkapl Palace, Basilica Cistern, The Bosphorus, the old city walls, the fisherman's markets and the Beyoglu district. On finishing the tour we wandered around the Grand Bazaar (a very big under cover market) and wow it was confusing, like a massive maze with not much room to breathe. We picked up a few little souvenirs and then set off to find somewhere for tea. Dinner was at a nice little restaurant about three doors up the street and consisted of a lovely vegetarian selection including feta spring rolls, stuffed vine leaves, mushroom casserole and egg plant filo pastries. It was amazing to say the least, oh and a bottle of rose wine. Back at the hotel we were having difficulty accessing the wifi internet. It was nonexistent in the room even though it was meant to be there, a bit better in the toilet (don't ask) and excellent in the stairwell of level three. Go figure.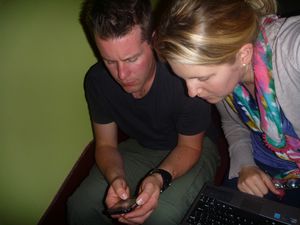 We started the next day with brekie and one serve of awesome views. The roof top terrace offered amazing views of the Golden horn and surrounding Sultanahmet area. Next it was off to a traditional Turkish bath! Wow. Actually not sure if that's the right word, maybe WTF. (What the F***). We arrived and it was in a proper traditional bath which meant changing into these proper little cloth bikini bottoms and then laying on a slab of marble for about 40 minutes in about 40-60 degree heat. Wait it gets better. Two men then arrived to wash us ha! We had to sit on another slab of marble stone and they threw buckets of cold water on us then loofered our arms backs and legs. We then had a soap massage which involved a million soap buds followed by these two grown men washing our hair. It was hilarious until Simone copped a bucket of shampoo water straight to the eyes. Afterwards it was light refreshments wrapped in towels, then red faced and flustered, but relaxed and well refreshed back on the pavement outside.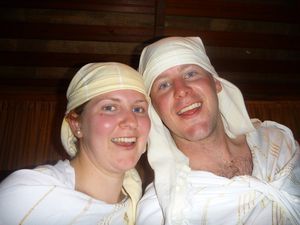 We then made our way to the beautiful Blue mosque and Aya Sofya, which were architecturally stunning and very peaceful places amongst a bustling city. This was then followed by more meze including spicy tomato dip, stuffed red peppers and walnut dip. Later in the evening we also caught a traditional Turkish dance show which was fantastic and displayed the fine arts of belly dancing, traditional Turkish dancing and . After further wandering around the main streets it was off to bed ready for our 7am meet and greet tomorrow morning for the start of our Easter Trekker tour, The Classic Balkan Trek.