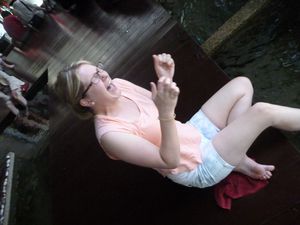 Wake up 9am, start the day off with a Berocca to give us back our BB bounce, followed by a fish spa to relieve those tired and aching feet from all the relentless walking. Ben was like a fish to water with this and had no issues placing his feet in a live pond, however I on the other hand was demonstrating similar behaviour to somone asked to place their feet in a pond of pirahns. After about 30 minutes of dangling my feet over the pond of swarming fish I finally plucked up the courage, the sheer distress evident on my face.
One thing we've learnt in Malaysia is that Malaysia's do not do shopping centers by halves. Today we checked out the almighty Times Square shopping centre. Where else in the world do you enter the doors to such a sight and are confronted with endless shops, all eleven levels of them translating to days of shopping? The answer… Malaysia, truly Asia.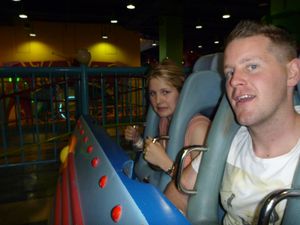 Level 5 of this great space is dedicated to an indoor theme park, complete with scary rides including a roller coaster and kids playland adverture area. So in the true spirit of adventure we bought a ticket and hoped for the best. Even though we don't look to keen on the roller coaster, it was fine and in actual fact it was and innocent kids ride that nearlly wiped us out with severe motion sickness. It literally took hours to recover and a nap to regain our composure.
Hustle bustle, central markets, spring rolls mixed up with some bartering in China Town, it's the thrill of the unknown again which gets us so excited whilst exploring this great country.
Find a new career whilst here at a silk painting class and then decide to perhaps remain in day jobs, none the less our attempt which we get to keep looks pretty nifty. All this leisure and sightseeing is so tough so we end the day as we started by exploring some relaxation techniques including a 1 hour Balinese massage followed by a tough one hour foot reflexology session, will today ever end?