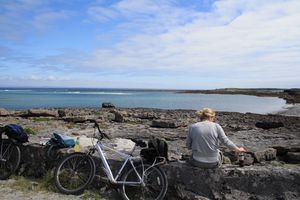 The 2nd day of summer for some and 2nd day of winter for others….. UNLUCKY. We woke on Thursday wondering what country we were in, as the sun was shining bright with not a cloud in site. Waking early from what was a disturbed sleep as our dorm of six were snoring, particularly Pierre who we later likened to replicating the sound of a tree logger. We took to a 45min bus ride, followed by a 45min ferry to the Aran Islands. Located off the west coast of Ireland we landed on Inish Mor the largest of three islands. Team goodies as we referred to ourselves included Seth (NSW), Amy (NSW), Jeremy (NSW), Pierre-Luc (Canada), Ben and Simone. We took on the challenge of ridding around Inish Mor seriously, some might a liken it to the great tour de France bike race, for we we're a force to reckoned with. After a one minute warm up including some bicep and triceps teaches along with some reminders on how to actually ride a bike, we we're off.
Five minutes in after a steep hill there was a pit stop to load up on food for a team picnic, then swiftly on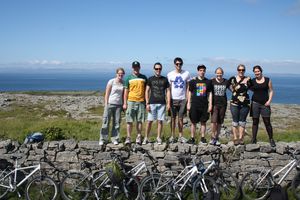 to find a location to eat it. Another five minutes down the track we decided to briefly make our sandwiches at a quiet little pub with inviting outdoor tables in the sun. No sooner had we done this, we were moved on by an unpleasant waiter. Seriously doubting the ability to ride and steer one handed whilst eating a salami, pesto and brie sandwich in the other, we decided to find the nearest place to stop. Within minutes of trying to multi task Simone had managed to take out part of an ancient stone wall, by stopping, learning on it and knocking about twenty stones off the wall. After much laughter and reenacting the group moved on down to a quiet little beach to finish our sandwiches, or what was left of them as most of the fillings had fallen out during the bumpy ride along the way.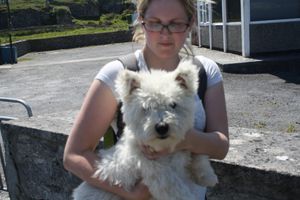 After lunch is was back on the bikes to ride around as much of the island as possible. First sight seeing stop saw us arrive at a native seal colony, followed by ruins of two ancient churches Na Seacht d' Teampaill located in a rundown grave yard. We also acquired a cheeky Westy pup along the way that ran with us for a hour or two before deciding to chase a car away. After many hills we made it to Dun Aonghasa a two thousand five hundred year old fort, which took about thirty minutes to hike to from the road. The views of the island and three feet cliffs were well worth it, practically for some good planking opportunities. With it getting close to the final ferry pick up time and not wanting to be left behind we rode tour de France style back before catching up with other tour group members, for a group photo atop one of the many stone walls scattered over the island. With 'Tour de Aran' finally over, having rode about twenty kilometers, once back in the city of Galway heads hit pillows pretty fast for some much needed shut eye.