Zhuh mahpehl Simone, Benjamin. Zhuh nuh pahrl pah Beeyeh Luh Fraw Say. Yay learning French`. It has been eight or so weeks since we have travelled to another country and we were getting itchy feet. So we're off to France to celebrate our birthdays in the beautifully romantic city of Paris. After work on Thursday we met at Kings Cross station in London to take the Euro star ( a fast train) to Guard de Nord in Paris but not without a few pre departure champagnes. The train is a great way to travel, with no airport hassles, including having to get there 2 hours before hand or countless hours spent waiting around but it still has the bonus of getting your passport stamped. We arrived in Paris close to midnight and caught a taxi to our hotel, with the only problem being that as we booked it all kind of in a rush we had no idea what the hotel was called or where it was. That coupled with the fact that we only speak three words of French between us made it challenging. So we put our complete trust in the cab driver and gave him our travel documents to read and thankfully it paid off and we got to our hotel. Strangely though the sign on the door didn't match our limited travel voucher information (bloody French), but we checked in and all was sweet. The hotel and our room was so typically Parie`, think Moulin Rouge apartment with balcony overlooking the Paris sky line.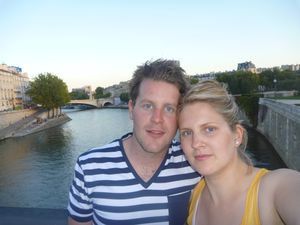 In the morning we awoke to a stinking hot Paris morning and went about trying to navigate our way around the Paris underground. Being such pro's on the London Tube we thought we'd have no trouble. As we mentioned before though we only speak about 3 words of French. So after some fun and games we made it to the city centre to the major tourist office to see what took our fancy for the weekend. Armed with plenty of brochures we found ourselves a quaint French café` to have coffee and croissants for breakfast and decide what we wanted to do for the day. Since it had been a few years since our last visit, like in London we jumped on board a big red open top sightseeing bus to reacquaint ourselves with the surroundings and a few landmarks like the Louvre, the Seine river, the Champs Elysees`, the Concorde, the various palaces, museums and of course the Arc de Triomphe along with the Eiffel Tower.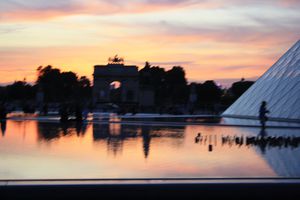 The Tower obviously can't be missed it dominates the city and can be seen emerging over all other buildings like the Godzilla of landmarks. Where ever you look the tower is always in view demanding attention. There truly is something magical about it and the romantic city in which it resides. We were well and truly under the Paris spell and any further plans we had to fill our long weekend were thrown out the window and we spent the majority of it wandering around having long lunches, cocktails in street cafes and lengthy dinners just watching the world go by and it was great. Although one thing Ben had pre booked was a bike tour at sunset, taking in all the sites at the best time of day to ensure the best photos. So dominating the city on our old school 2 wheelers we took in the majestic Notre Dame`, The Louvre Pyramid as well as the fancy restaurants and cafes on St Germain Blvd. We then boarded a massive river cruiser for a different view of Paris up and down the Seine, it was then back to the Tower for some more photos. Don't let anyone tell you 'you can have too may photos of the Eiffel Tower, we probably took about 200 that night in all different lights and angles.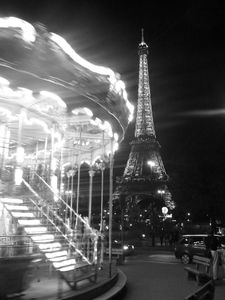 Later that night we found a nice little café which we ate at 3 years ago when we were here last. Here we found a spot which had a perfect view of the Eiffel Tower. At midnight on the dot the tower lights sparkled (as they do each hour on the hour) and it was a great welcome to Paris for Simone's birthday, with a glass or two of champagne. Just a little side note while I'm writing this; it's 3 weeks later and we're on a plane from Munich Germany to Istanbul in Turkey going through the worst turbulence we've experienced to date. Ahhhh the jobs of travelling. Anyway back to Paris. So you're probably thinking did we climb the Eiffel Tower or go and see a show at the Moulin Rouge? Well we didn't and our first answer would be 'we will be back because it's only 2 and a half hours by train from our house in London with one quick change of trains. We thought about climbing the Tower but thought photos from the top of Paris would look strange without the Tower in them, so instead we trekked to the other side of the city to Sac recur an old church famous for something or other (we can't tell you everything, you have to do some research yourselves). A top about 500 steps in the middle of Monte mare, the old haunt of many artists including Picasso and Monet`, where they would sit around in cafes sip Absinthes and get their creative juices flowing. We took photos and explored the cobble stone streets, alley ways cafes and quaint little gift shops.
As day turned to night the area started to buzz with a different vibe as it is the cities red light district, so we saw some different sights and in the heart of it laid the Moulin Rouge which as a landmark goes she really came into her own at night. In the morning we packed our bags and with plenty of the day to explore before our train home we made our way to the Bastille in the south east of Paris to the big farmers market to shop and eat where the Parisians do. We weren't disappointed with stalls filled with fresh fruit, veg, olives, fish, seafood, bread and of course fromage. After exciting our senses it was back on the Metro (Paris underground) to Guard de Nord for our train back to London. Sighhhhhhhhh. It was a lovely relaxing get away to the most romantic city in the world, but there is so much more to see so we will be back. Lucky for us it's only a short train trip from our front door.