England - London (September)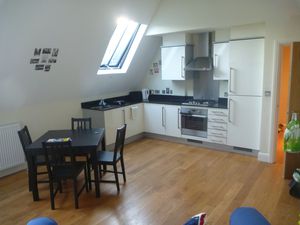 So we've been thinking….. We still can't work out the big trip and it's less than two weeks away but another pressing matter is that on our return from the trip if we ever arrange it we will be homeless and will also have nowhere to store our knic knacks that we have collected so far. So with this in mind we begin flat hunting, as if the trip isn't enough to keep us occupied. We pretty quickly line up four flats to look at in the Clapham area. We decide to stay in Clapham as we like the area and it is central to everything plus we now have friends here. The first flat we look at we absolutely love. It's new, furnished with the basics, good security, close to buses and trains only a five minute walk away from our current address. The bus stop is actually right out the front of our flat and the over ground train to work is about 5 doors down. The sealer for us was that you can see the Houses of Parliament and you can just see Big Ben from our bedroom window. With the next group of people waiting outside to look through and with the right price offered we took it. We still looked at a handful more flats just to check value, but they were filled with flaws including sharing an adjoining main wall with a pub, mould field ceilings and one place was just plain weird. We knew we'd made the right decision. Yay our own pad, we were so excited. This was another reason as to why we were true Londoners'.
Now that we had a trip and our first month's rent plus the bond to save for this weekend it was going to have to be a spend thrifty one. What to do when you're strapped for cash…? Markets of course. With this in mind we decided to visit some new ones and returned to Brick lane where we had previously gone for drinks a few weeks ago to check out the market side of things. Wow! Another new fav place. One word to describe Brick lane is 'vintage baby'. Wait that's two, ahhh who's counting. The clothes and handmade merchandise were amazing, when we had cash we are definitely coming back here. Now we had our own apartment we indulged and bought a few posters to decorate the place with and we found two amazing food markets. Within the space of about 30 minutes we managed to try food from about 3 continents including; Asia, Africa and Europe. Simone tried her first ever sushi (yes she is the only person on the planet who doesn't eat sushi) and we dined on cous cous flavored with a spinach, chickpea mint yoghurt topping along with samoses and other delicacies, what is even better is that we survived to tell you all about it.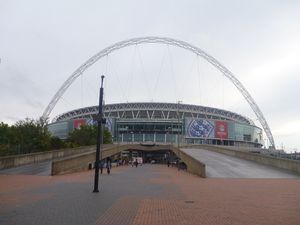 On Sunday we decided to attempt a trip to IKEA at Wembley. With no real indication of how to get there and with only connecting buses available (as the jubilee line was down…. again) it proved more than a challenge. Two connecting trains later and a one and a half hour bus ride later we made it to Wembley about 4:30pm. Simone frantic at this stage was still clutching at straws asking for directions in shops, but as it turns out we were still another 20minutes from the stupid store. Finally she gave up, absolutely shattered along with irrational and admitted defeat. Instead as a small token we decided to visit Wembley stadium where lots of big concerts are held and sports events played and managed to save face by getting a pin from the souvenir shop. Next weekend IKEA attempt number 2 is already scheduled in for Saturday, but where going to try the Croydon store, not Wembley again.
An awesome surprise this week was the pressies from home for our birthdays including the box of goodies sent by Beth from home, the awesome winter woollies from Wilma and the goat and chicken from Jill! We were so rough getting the big box open because of the excitement that Beth had sent, that unbeknown to us when it burst a massive glitter cloud filled the lounge room. Opps. We still manage to find pieces of glitter all over the place even though we are sure that we cleaned it all up! There were so many little knick knacks that were great reminders of home and about a million tim tams of all flavors. Best of all was Matilda!!!!!