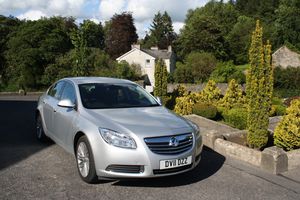 Drum roll please! We hereby introduce you to Patrick the very awesome hire car. We were meant to be given a little base model Astra hatch but instead ended up with a luxury model 5 door Astra Vauxhall with all the perks including wood trim, leather seats and auto everything. Patrick was a beast, who would navigate us through the Irish countryside on our three day mini getaway. We had absolutely no idea where we were going or what we were going to do right up until the roundabout out of the airport, where we made a sudden split decision to turn left, slightly cutting off some cars we decided to make our way down to Limerick in the south. With the rough idea of following our families footsteps and tracking our roots we drove south via a small town called Newtonbuttler the home of some of Simone's ancestors the Robinson's. We looked around the local Catholic cemetery for any headstones with the Robinson name but after about an hour of looking at every single grave we came up short. Jill later informed us that the Robinson's were in fact Protestant and therefore wouldn't been buried in a Catholic cemetery. Unlucky. After our stop we continued south through Enniskillen then across the border into the Republic of Ireland.
As the sun was starting to go down we needed to find somewhere to stay so that night we st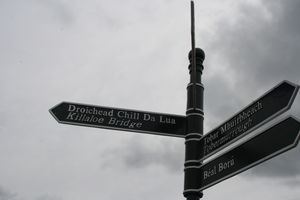 opped in the town of Cavan and found a cheap room above a pub. In the morning we were up at the break of dawn to head south west down to Killaloe just north of Limerick. It's a long morning of windy country roads passing through many small towns and villages, with some worthy of a mention including Owen Killen, Tubbercurry and Clog Hole! We arrive in Killaloe about lunchtime, the home of the Strachan's. Once there we found the tourist office to see if they had any info on our ancestors. The woman pulled out a book which contained a census of the parish dwellers, with Strachan nowhere in sight with several people in the tourist office looking at us in bafflement at the name.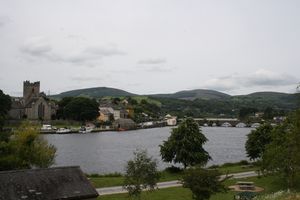 We eventually came away knowing less than we had gone with if that was even possible. Determined not to settle for this lack of info we were recommended to travel back to a town known as Ennis (which we had previously visited on our Shamrocker tour) to the genealogy library which held detailed historical records for county Clare of which Killaloe is a parish of. We drove west to Ennis on the way going through the town of …….. the birth place of Obama's ……… Once there we were given directions to the library. At the library the man there was most helpful and we found out what we needed to satisfy our curiosity for the meantime. There were Strachan's in Killaloe after 1901 they were then known as Strahan's and prior to 1901 were known as Stritch, a very common name in and around county Clare. Declaring our fact finding mission a success we pointed Patrick in the direction of Derry and took off home. That night staying at the lovely little seaside town of Salthill just out of Galway on the west coast, we had a relaxing night out. We stayed the night at a very nice and reasonably priced b and b and went to dinner at a delicious little seafood restaurant known as Gourmet Tart Co. In the morning we finished the drive into Northern Ireland and back to Derry.