Saturday, 28 to Sunday, 29 May 2011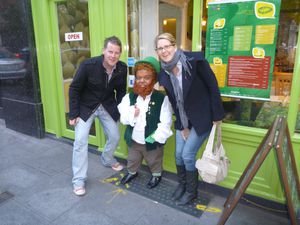 Ahh fiddle dee, potatoes and leprechauns. Where tee feck are we? Ireland of course! Touchdown and we are greeted in leprechaun by the air stewardess, actually it's the true Irish language and is referred to as Gaelic and it's fascinating to listen to, that is if you can understand a single word of it. One of the first things we notice after landing in Ireland is how hot it is. Compared to northern Scotland it's tropical. No sooner do we arrive at the baggage carousel then we see someone wearing a horse head mask lying on the belt planking and we can't help but chuckle along with everyone else. What a hero.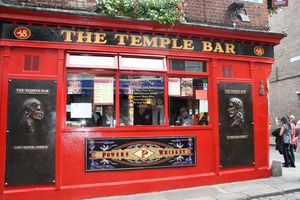 Our bed for the night is located in the area of Dublin called the Temple bar and is somewhat equivalent to perhaps St Kilda paved in cobble stones of which you could easily get lost in. Our hostel is right smack bang in the thick of it, right next door to the famous Temple Bar itself, which is caught up in champions league football fever. So sleep will be nearly impossible particularly because our skylight is directly over the pub and does not close.
Having all day Sunday to explore Dublin we set out on the usual cliché city tour bus which is great. One and half hours sees us do a full loop of the Dublin city sights and then we decide to pick our top 4 must do's, being in no particular order, the Jameson Distillery, the Dead Zoo, the Guinness Storehouse and Kilmainhan Goal. The Natural History Museum AKA The Dead Zoo is free and extremely interesting. It's like stepping into the Ben Stiller movie 'A Night at the Museum' with the massive range of stuffed animals. Simone has a photo with Clive the Badger before realising that photos are prohibited, cheeky Clive.
We visit the Jameson distillery and partake in a spot of whiskey sampling including a 10 year old, 12 year old, 18 year old and the gold reserve whiskey's. As we arrive at 12pm we are advised that there is no alcohol served before 12:30, so like true drunks we sit at the bar and watch the clock.
Our next stop is the Guinness Storehouse and the home of the black beer, which is a fantastic place and probably the most modern place in all of Dublin. We firstly have a tour of the brewery and the Guinness making process, not too dissimilar to the whiskey making process. Then head up to the Gravity bar which has 360 degree views over Dublin city to sample the Irish water. Which in Simone's words, tastes like dishwater mixed with hops with cream on top.
The last stop for the day is at Kilmainham Goal where we join a guided tour around this both interesting and eerie sight and learn about the goings on when it was previously open, including the 144 hangings.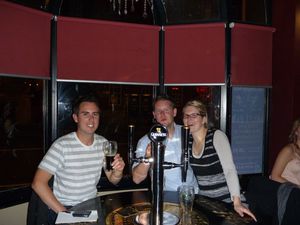 Dinner is spot on as we attend a restaurant with our friend Jeremy who we meet on our Haggis tour, that has traditional Irish dancing and a live band playing Irish folk songs. It also had beer taps in the middle of the table for added bonus, so we got to practice pouring our own pints over and over again.