Thank you for joining us on the wheel of fortune. Subject is a place. Spin the wheel please; can I have an 'S'? Yes there are two. Spin the wheel; can I have a 'T'? Yes there is one. Let's cut to the chase we are in Thessaloniki, Greece! On our nine day Classic Balkan trek after spending some time in Gallipoli, we make the journey to Greece and in particular to a place called Thessaloniki. Crossing the Turkish border into Greece was an exciting adventure in itself and one that we were glad to be making with a reputable tour operator such as Busabout. Matte advised us that at this border things move very slowly and usually it takes three people to process a passport at any one time. One to smoke a cigarette, one to read a paper and the third one to actually enter passport details at a snail pace. Our bus also has reserved bottles of spirits which can apparently be used to 'lighten guards' moods at checkpoints. We thought that they were joking regarding the last point…… they were serious. All in all we got our passports stamped and apart from the experience being a bit intimidating it was fine.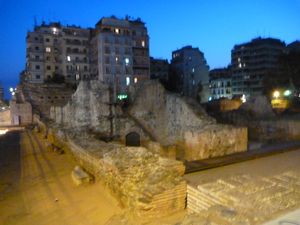 After our much loathed bus introductions and a one hour session of speed dating we stopped in a town known as Kuala for lunch. Being in Greece and all we thought we should eat traditional so we ordered a Gyros (similar to a souvlaki) but filled with chips inside and explored the area which was nestled by the water. After walking along the pier and getting a few snaps of the still standing Roman Aqueduct which was quite a sight to behold it was back to the bus to continue making our way to Thessaloniki our final destination for the day. On arrival we chucked our bags in our rooms and as a group set on a walking tour of the city where we learnt about the history and many of the ancient sights which still stand today muddled among the modern developments. Whilst walking through the city we saw the old city walls, a mosque that had been converted into a church after the war, the palace of Galerius ruins and the remains of a prison situated on the coast used by the Germans in the war. After a short stroll we arrived at a restaurant where we had a delicious group dinner where many glasses of wine were consumed and interesting travel stories were shared before stopping for a few drinks at a nearby bar.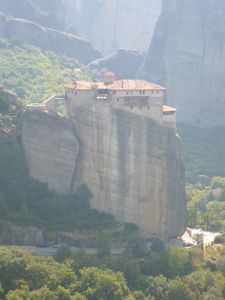 The next morning it was another earlier start being 730am (early by holiday standards) as we made the trek by bus to Athens which was a fair distance away. On the trip to Athens we stopped at a quiet town called Meteora where we dined on some delicious Greek cuisine with our new friends, Ant, Annie, Bodge and Anna, also couples from Australia doing the tour. We then visited a UNESCO listed sight that was truly amazing. Perched very high on sheer cliff tops were amazing monasteries inhabited by monks. Something you had to see to believe. With a bit of free time we made our way up first by bus then by foot up the hill and had a wander through one of the monasteries that was open to tourists. The views were spectacular.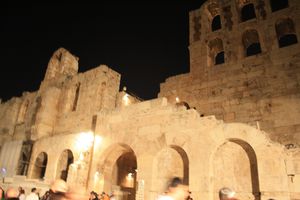 We arrived in Athens quite late and ideally we would have liked a day or two here, but never mind we can always return. The group made their way up to the roof top bar of the hotel where we were staying and were immediately stunned by the sunset views offered of the Acropolis and surrounding city. Upon seeing this we along with Annie and Ant decided it was unacceptable to come all this way to Athens and not visit the Acropolis so the four of us jumped in a taxi after getting stuck in the hotel lift for 5 minutes which was a terrifying experience, and made our way there. Once there to our surprise the night time spectacle on display was a sight to behold. With spotlights illuminating every aspect and angle of the ancient building. After walking around the ground we walked through the many night time stalls in the area of Placka and finally settled at a little Greek restaurant for some food. After wandering through the cute little night markets we made our way back to the hotel ready for the next adventures ahead. Monday saw the group make the trek from Athens to one of the Greek islands called Corfu which would be our destination for the next two nights.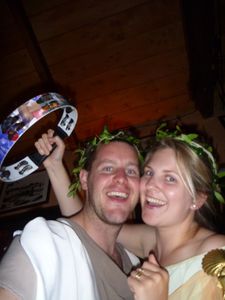 On route to Corfu we made a few rest stops during which we were collected by a ferry for a one and a half hour trip to the island. On arrival after a quick freshen up it was time to have another group dinner and some more Greek delights followed by an epic toga party! With no expense spared the restaurant converted in the blink of an eye to a middle age dance arena with proper toga costumes for everyone along with Karaoke. With wine at 4 euro's a litre, many a song was sung with tambourine in hand and the night got slightly out of hand carrying on into the early morning. Angelico our bus driver who hadn't said a word all trip came out all guns blazing and for the rest of the night we couldn't shut him or his tambourine up. At some stage after about 3am the group decided to hit the casino but probably for our own good we were out right refused entry. It was therefore back the hotel, where the girls and boys each had their own rooms. It was an early start to the next morning when we walked a few kilometers into town along the water. The six of us wandered through the shops and stalls. We visited the old Fort which had a magnificent view over the island and was well worth the climb. After meeting back up with the other couples we settled for lunch for an hour or so before catching the bus back to our hotel. The rest of the afternoon was pretty tough, involving several drinks pool side and basking in the sun. Full on we know! After finally removing ourselves from the pool it was off to a little traditional Greek restaurant down the road where George the owner who was a great entertainer served us whole fish, which he filleted at the table in front of us. The meal and several glasses of wine really made for a special evening.