Can someone please advise whoever is controlling the day light in Scotland that I think they have their times muddled up. The sun does not set between 1030p and 1100pm and definitely doesn't rise at 330am! Yesterday our Haggis tour of Scotland commenced after spending a wee bit of time on our own in Edinburgh. We have a reasonably small group of 14 people on our tour who seem heaps nice and a tour guide Stevie who is a walking talking encyclopedia.
To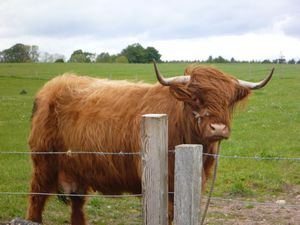 cut through the usual awkward silence which occurs at the beginning of any tour Stevie gets each of us to write down something that we would like to see in Scotland to entice DSL (for those uneducated beings DSL stands for DEEP Scottish Love), and would be a term constantly thrown around the bus over the coming 7 days. We decided that in true Scottish style that DSL would occur for us personally if we could see a true battlefield and a Scottish cow (which apparently again for those uneducated people is correctly referred to as a Hairy Coo oo) no bullshit.
Among the sites yesterday were the viewing of the Forth Bridge , connecting the heart of Edinburgh to the highlands followed by a brief stop and wander in a town named Dunkeld which is notably home to the incredible Beatrix Potter along with a visit to a beautiful cathedral titled St Mary's. We then made our way up to Hermitage to view the United Kingdom's tallest tree (although it really didn't look all that tall) and to see the stunning waterfalls located here which were truly breathtaking. After walking up an appetite we all stopped at a small pub for lunch and a few Shep Shagger beers in the township of Kinguisse and continued on to what was probably the highlight of the day and the most fascinating being the battlefields of Colloden, which truly was a sight to behold.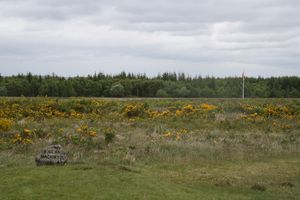 With the weather against us and blustering strong winds we made our way out onto the original battlefields and with our ever so knowledgeable tour guide Stevie in tow learnt about the history of the major battles fought on this field and sited the monuments dedicated to those fallen. Stevie not only highlighted all the gory details of the event but also the brutal battle tactics that would have been used.
We finished the day off with a brief visit to the Balnuaran of Clava an eerie prehistoric cemetery, where the clouds opened and it began to pour. This gloomy site contained three chambers where the Druids cremated their dead along with an eagle, bear and wolf so that the soles would of the past could be transported into the next life safely with sight, strength and stamina.