Settling in like true Londoners Ben is already banding around the term 'bloody tourists' for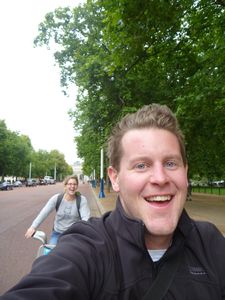 annoying travelers and I have to keep reminding him that ahh we are 'bloody tourists', but he denies it profusely. According to Ben based on these facts we are no longer tourists and in fact we are Londoners.
· We have a local pub, The Royal Oak, where we attend the weekly trivia night and randomly meet there for a game of ping pong
· We have used and often use the Borris bikes around the city, which tourists are notorious for not knowing how to use
· We have a blockbuster card for our local video shop
· We have a local GP
· We actually know our own postcode and address (something rare)
But most importantly we can read, understand and navigate our way around the city using the tube map. Simone feels like a Londoner because every morning she manages to get on a packed train and fit her entire body into 2cm by 10cm gap and has survived getting her head stuck in the train door. When she arrived at work that morning she didn't look so graceful.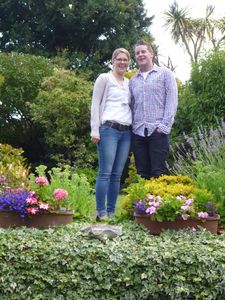 During the week we were met with a nice surprise when Simone received a phone call from Pat, Jill's cousin, who invited us to dinner. We accepted and later that night got a train down to Ewel East about an hour away, south from London. We had a lovely dinner with Pat and her husband Mike along with Simone's aunt and uncle, Glen and Max who were on their London leg of their own European adventure. It was lovely to catch up with some familiar faces and to meet family we had heard so much about. It was really nice to have a home cooked meal in a family home having lived in many random places over the previous weeks, except the gorgeous home in Derry with the lovely Claire, Jonathan and Roo. Pat and Mike's place is a quintessential English house with stunning furnishings and a large, beautiful garden filled with all the colors of the rainbow. We had a really fun time and look forward to catching up again.
As we are now working the weeks go by so quickly and before we know it it's the weekend again, which means more cliché tourists sites. It rained, no sorry it poured but that wasn't going to stop us.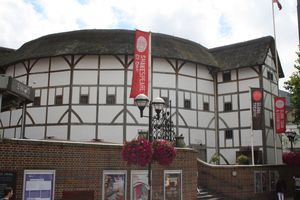 We spent time wandering around Shakespeare's Globe a fantastic place built on the site where Shakespeare's plays were originally performed. There is now an outdoor theatre and village created to look like it was from the past. We decided we would definately need to come back to watch one of the many performances in the atrium and go on a proper behind the scenes tour but today we just had a look and of course we got a pin. Ok we can stop mentioning that… just assume we collect a pin relevant to where we have been, everywhere we go. Following on from here after lunch riverside, we strolled down the Thames along Southbank and under the Waterloo Bridge, with views across the river of St Paul's; it's a area similar to Melbourne's Southbank. We walk until we reach the Tate Modern, the modern art gallery. We wandered around the six levels taking in all the works including pieces by Andy Warhol, Picasso and Ben's favorite Roy Lichtenstein, it was all good until Simone's knee suddenly gave way for no apparent reason.
After getting our art fix for the day we walked across the city to West Minster Abby, well Ben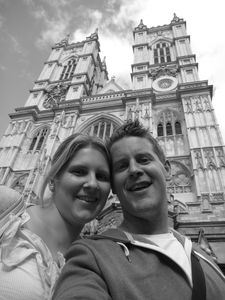 walked, Simone kind of hopped. It's the place Wills and Kate were married in April. The crowds are still overwhelming four months on and Kate and Wills merchandise is still flying of the shelves. We thought it would be great to get a pin with Kate and Will on it, but sadly there was none with their picture so we had to settle for a modest commemorative West Minster Abby/Wedding one. Simone however became determined to find one at any cost; she became quite obsessive about it over the coming weeks to the point of madness, even though we didn't know such a pin existed.
Sunday saw us visit Shepherds Bush, northwest London about 40mins from our place on the tube and at the huge Westfield there, we stocked up on some winter necessities for our fast approaching trip in September to Eastern Europe. It is here we had our first Lego store encounter and it was joyous. We were transported back to our childhood and lost time looking and playing with the latest Lego has to offer. We decide to treat ourselves before we go home we will by the Lego Tower Bridge all 200 pound of it, can't wait. The trek up there would have been incomplete had we not stopped by 'Jumbucks" the Aussie shop for a meat pie and to stock up on some home comforts like Tim-tams and BBQ shapes, it was enough to make us home sick… almost.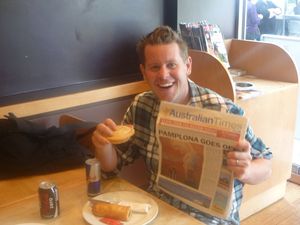 Back on the tube we headed to the picturesque Notting Hill, yep the same as the movie. From there we headed by foot in another London down pour to the famous Portobello Road markets, of course once we got there the rain disapeared. We spent the rest of the afternoon exploring the quaint markets and side alleys with many fantastic, quirky shops and stalls lining the streets as far as the eye could see. Note to selves: we must come back here before returning home to Australia to stock up on stuff for our 'dream' house, we will need a shipping container.