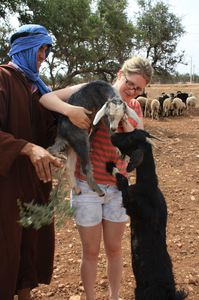 It's here that half of our tour leave and 7 of us stay on to travel to the west coast of Morocco. Given the state of our Moroccan bellies, we could have probably done with departing the tour here too - but we were glad we didn't. After a scenic drive through Argane tree forests and banana plantations we arrive in Essaouira. On route to here Hassan our guide mentions of these wondrous goats that climb trees and we think that he has actually lost the plot. Sure enough though within about 15 minutes the spectacle begins and there are an array of goats just purchased meters up hundreds of trees - we can't quite believe our eyes. Stopping for a photo opp is too irresistible and within moments we are out of the bus talking to the goats and fussing over them. Simone decides to pick a baby one up and it's not backwards in coming forwards to let her know that this is not on after digesting some of her hair. After a short while the goats begin to loose patience and being the stubborn creatures that they are things get a little hairy - with goats running people - this is our cue to get back on the bus pronto. Whilst on our way to Agadir we stop at an Argane oil cooperative and see how the famous Moroccan Argane hair oil is made which is a popular product around the world. Not surprisingly the factory or rather shabby building is full of ladies using old labor-intensive techniques to extract the oil for the Argane seeds found on the trees - transforming it into a luxurious oil. The shop selling the stock looks almost out of place in its surroundings and modern compared to the landscape.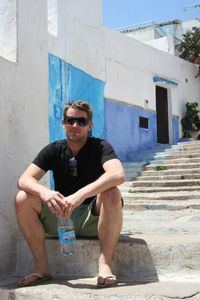 In Essaouira it is serene, friendly and charming. We wander through tall white houses with yellow detail and blue doors - not to dis-similar to those in Greece. We quickly learn to be aware of our surroundings here and prior to doing so have the living day lights scared out of us. Whist walking the little shabby streets ladies come running at us with syringes, grabbing our hands and pressing them against our skin. The natural reaction is to freak on - but in the syringes is actually Henna - for Henna tattoos, which they don't inject into your hand but rather on top, which dries and when washed away leaves a semi permanent tattoo. We spend the afternoon lazily wandering the streets in the stifling heat spending time down by the port and taking in the sights. After a guided tour of the medina we visit a fish market and the silver palace, before retreating back to the hotel pool - as it's just way too hot at 46 degrees. Once the day has cooled and the sun has set we head towards the beach for a relaxing stroll and dinner with the group. The next day we run a muck in the market making last minute purchases including a tagine and six set of plates - not even bothering to consider how on earth we will get these home. 
After a scenic drive along the Atlantic coast passing palm groves, Berber villages and kasbahs we reach Agadir. Agadir is an important fishing and commercial port - particularly for sardines. It is also a seaside resort with long stunning sandy beaches. After a ten minute incline in the bus we reach a beautiful look out which has views all over Agadir and we are able to get a snap shot of the port and the busy fishing trade - which on closer inspection later on smells like a tin of cat food.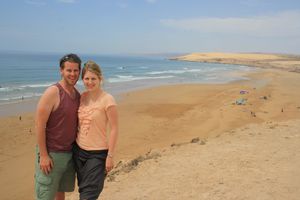 Surrounded by the Antiatlas Mountains, the Sahara Desert, many natural parks and secluded beaches, Agadir is one of the most popular destinations in Morocco today. As the weather continues to be stinking hot we give ourselves the day off and spend the day by the pool drinking and eating before taking a stroll along the esplanade at sunset to capture some beautiful images. We begin the next day with a walk to the local market - which is huge but after a few hours here the weather is so hot it feels like our shoes may melt off our feet so it's back to the pool for some further rest. After a much-needed rest in Agadir the tour heads back to Marrakech we our journey is to end. Ben and I on arrival back armed with a recommendation try out the local hamum, which is like a traditional massage with a few random elements. Expecting to relax we are shocked when we enter a cave like room to be told that we will be covered in gritty mud, including all over our faces and then left for the mud to set and dry in a dry heat room. With mud in her eyes and dying from heat exhaustion it's too much for Simone who cracks it and decides to call these stupid ladies back in to wash the muck off us. This turns out to be one of the roughest experiences ever as pales of water are chucked directly on us, up or noses, over our faces and there's just mud everywhere. Once we are finished here we decide to put the experience behind us and have a good laugh about it, before immersing ourselves in Djemaa el Fna Square for a delicious local meal. It's then time to leave the heat and return to the reality of London.