The next day on route to Fes the spiritual capital of Morocco. We pass over the Atlas Mountains and through the impressive mountain city of Midelt, which is 1488 meters above sea level famous for being the home of Atlas Lion's. There is something about Fes that gets us really excited. With more 10,000 tiny streets Fes offers the largest medina in the world. First stop is Bab Bou Jaloud gate the official residence of the king when in Fes. The main entry gate is carved from rare expensive cedar wood and surrounded by rare hand crafted mosaic tiles. A short stroll from here is Fes el-Jdid the Jewish quarter where we wander through traditional date, nut and spice stores. With valuables consciously secured deep in our pockets we venture into the first of the 10,000 streets. What we find is truly amazing. Firstly life in the souk moves at a million miles an hour, most streets are one meter wide but that's still enough room for people to walk down, donkey's and carts to canter down and scooters to speed down all at the same time. Note to self - if you don't move it's guaranteed you'll get run over.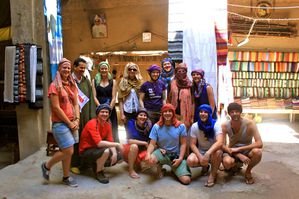 The stalls themselves have much to offer, from fresh vegetable and meet produce and when we say fresh we mean FRESH! Chickens stand out the front of stalls and locals pick the lucky bird that will be dinner tonight. Then the butcher slaughters it there and then... mmmm I feel like chicken tonight. There are also many stalls selling nougat although most seem to be nougat with the equivalent weight in wasps included free. Let's be honest no one really cares about hygiene. As we continue to navigate the labyrinth we pass many a silver, silk and clothing merchant - and even miraculously pick up a pin or two, ok maybe three. The A team is yet to be defeated in the pin stakes. Husain guides us to Bou Inania Medera a theological college built in 1350 still used today as a renowned Koran school, Moulay Idriss Mausoleum the tomb where the founder of Fes is located and also Quaraouiyine Mosque which was first built in 859 by a pious woman Fatima Al-Fihna.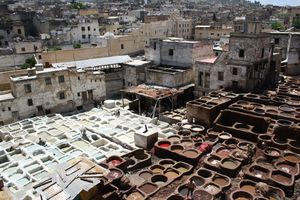 After our informative history lesson armed with sprigs of mint in hand we continue through the dark cool narrow alleys to the tannery. Several flights of stairs later and the stinkiest smell ever greets us... I mean it's proper minging! It's confirmed that we have arrived at the tannery. As we stand and look out from the viewing deck we can see far out over Fes and the souk but what lies beneath us if the famous Fez tannery in all it's stinking glory. Up to 30 giant, clay bowls filled with a mix of water, dye and pigeon droppings and surrounding them a hive of activity, with people, donkeys and pigeons everywhere. It's from this tannery that most camel bags, shoes and wallets all over the world can be traced. We are taught about the going's on and the how, what and when's, like how saffron makes orange coloured leather, mint makes green, charcoal makes black and so on and so on. After listening to our guide, who has the best job in the place because he doesn't have to wade around in vats of poo all day everyday, tell us all we'd possibly want to know about the place we were free to explore the vast array for products on sale. This was just another opportunity for Ben to get his haggle on. By now the score is about Ben 2 Moroccans 12. Its then time for lunch, cous cous again, what a surprise.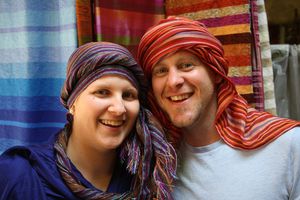 After we are fed and had either a nap or a loo break (you know what I mean) we continue. Onwards to a silk cooperative, where we are shown the ins and out on silk weaving, from how they use wool from sheep to cotton from plants and fibers from cactus, all very interesting. After the lesson it was Moroccan headdress fashion parade time. And the cameras came out to capture this fun.Back on the track we navigated our way through more tiny streets and alleys and nooks to find a ceramic coop. We were taught how they hand made tiles and pottery and other ceramic stuff. Ben was particularly taken with the tiles and stocked up on some beauties to use at home. After a long day in the maze we retired to the hotel to rest up. The next day we depart for Rabat the capital that is set in a rich amber coloured landscape that combines ancient history with modern Moroccan culture. We visit the Chellah Ruins, Hassan Tower Gardens and Mohamed V Mausoleum. This Mausoleum is the resting place for the previous king Mohamed V and is guarded by many service men.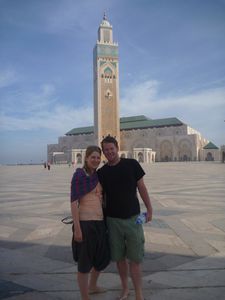 After lunch we continue onto Casablanca passing the famous 'Rick's Cafe' from the movie Casablanca and take a stroll along the esplanade, which is bustling with people. Before a group dinner we set foot in the United Nations Square and walk through the Anfa residential quarter before viewing from a distance the famous Hassan II Mosque. Rising early the next day we decide to join a 9am guided tour of Hassan II Mosque, which is breathtakingly beautiful. The third largest mosque in the world Hassan II Mosque was constructed in record time (6 years) as the government called on skilled tradesman from around the country to contribute, which was considered an honor. Local taxes were collected from all citizens to allow construction and the quality is to the highest standard. The mosque can accommodate 25,000 worshippers inside and a further 80,000 in the tiled outdoor grounds. After our tour it is back on the bus to Marrakech and a visit to the famous outdoor square Djemaa Fna for a group dinner at one of the many little outdoor market stalls. We of course keep in mind the travel motto 'If it's on the street don't eat meat' especially seen as it has been 41 degrees earlier in the day. To be honest it probably wouldn't have made a difference as the whole tour has had an intestinal virus anyway, but we all thought it best not to tempt fate.