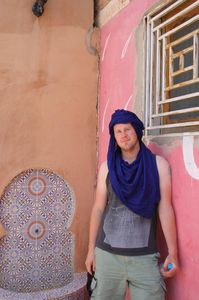 Salam, hello and welcome to magical Morocco. Over the next two and a bit weeks there will be many adventures. Whether it's camel trekking across the Sahara, taking a jeep safari over endless dunes or simply taking in some culture in the main cities, or even a bit of Moroccan belly - we promise that we have it covered. Located at the top of the African continent and nestled between Algeria and Tunisia. Morocco is spectacularly diverse and combines sand, sun, sea and snow in an incredible way. On arrival into Marrakech we have a day to ourselves before beginning our 14-day tour, so in true A team style we are straight onto the first hop on hop off bus available. Heading up to the upper viewing deck which was roofless was perhaps no the best idea in 39 degrees, but only realise this a few hours later whilst nursing sunburn. During our two laps of the route we see sights such as the Royal Theatre, Mo-hammed VI Avenue, La Koutoubia and Jardin de la menara. It's then into the thick of things as we dive into Djemaa el Fna Square, where having your wits about you is a must. Monkeys run amok, snake charmers perform enchanting acts and groups of musicians surround you out of nowhere. Before you know it you are featuring in their act - of course for a small price. After wandering the maze of winding market stalls and dodging donkeys it's back to the hotel to meet our tour and head out for a group dinner located on a roof top terrace overlooking the city. It's an early getaway the next morning as we have much driving to do in order to get to our camp in the Sahara where we will spend the next two nights. Leaving the dry heat of Marrakech we leave through the Atlas Mountains stopping in a local weekly market in the town of Zerktn. The market is very authentic with traditional dressed boubou (local men) and is the focal point for a range of nearby villages to trade goods needed for the next week. As we continue onto the main town of Zagora we pass through some Moroccan film studios, which apparently make the best movies. We stop for a panoramic view of a lush green palm grove, which is a surreal sight when surrounded by desert sand.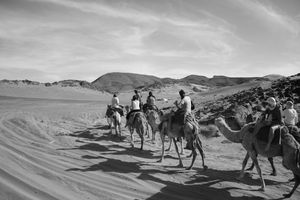 After a quick stop to arm ourselves with some appropriate headwear it's an hour trek across the dunes where we will be staying in sedentary tents, which portray authentic local nomad life in the Sahara. After dinner under the stars and some time to reflect - we need some rest. After surviving the worst sand storm known to man and waking up at 2am with the tent door open and fighting 10 minutes to close it - we woke to sounds of angry grunting or rather our transport for the next few hours. After breakfast it's time to have a few stern words with George and Gertie - our assigned camels about how to behave and what will be tolerated before our shepherds help us onto their backs for the 3-hour winding trek ahead under the harsh sun. After a short scorching 3-hour journey we arrive at an oasis half drained and upon arrival are served beautiful platters of seasonal fruits and salad. In true Moroccan style we have a siesta before waking and sipping on fresh mint green tea (Morocco's traditional drink) and doing the whole camel trek thing back again via a different route.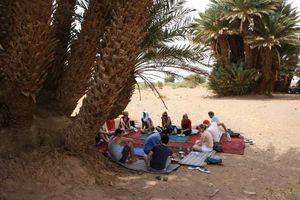 Once back at the sight hot, sticky and flustered we grab some bottles of Rose` (warmed up of course) and trek to the largest sand dune to get a cool breeze and watch another beautiful sunset pass us by. Next morning there is no rest for the wicked or rather just get up early to avoid the harsh heat. We set off in 4WD on a dune safari and have the rare opportunity to see a true nomad family up close and can't even begin to appreciate the lifestyle they lead. As we tear through the dunes we make it back to town to a village by the name of Tamegroute. It is here that we visit a well-known Koranic school and a local pottery. The pottery is famous for the green colored work used on all pottery to symbolise the origin from where it comes. After this we have the opportunity to venture into a boubou village/kasbah - which is like entering another world in centuries past. After lunch at an oasis shaded by a beautiful palm tree canopy and access to a range of outdoor toilets - holes in the ground (which are usually few and far between). It's then onto a new desert camp located by the largest sand dune called 'ocean without water'. Here after a beautiful Moroccan tagine and barley soup for dinner under the stars it's time to hit the hay or rather sand. In the morning we are up before sunrise and climb to the nearest dune to get a seat in order to see the spectacular sunrise. Even though it's cloudy she doesn't disappoint. The colors in the sky are breath taking and the light as the sun catches and reflects the desert sand is unexpected. After breakfast the group safari back to the town of M'hamid and pose for a cheeky group photo in front of a '52 days to Tombouctou' sign. It's then on route to Erfoud. We stop before lunch where our guide Hussain takes us on a walking tour through a palm grove in Tansikht where many local families grow crops of wheat and barley with pomegranate trees doting the landscape in the oasis. Ahhh it's like heaven in the oasis and hell around it with the harsh unrelenting desert.