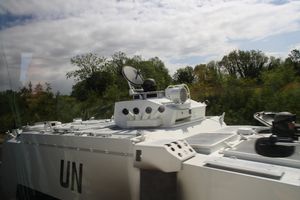 First day of Shamrocker and we leave Dublin on a bus four times the size of our Haggis tour with a group more than three times the size. Within a matter of minutes our new tour has a Contiki feel to it, as one by one we are called to the microphone at the front of the bus for the traditional bus introductions and with us being first to book we are first cabs off the rank. As the bus continues down the highway out of Dublin we find ourselves in a convoy with about 200 UN peace keeping tankers.
Our first photo stop for the day is an old 12th century castle not 20 minutes out of Dublin called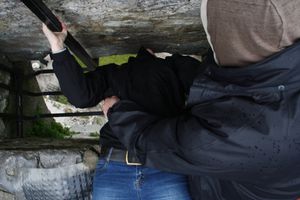 Cashel Rock. It's just a quick stop to stretch the legs and then pile back onto the coach. Destination County Cork and Blarney, home to Blarney Castle and the famous Blarney Stone. We hike up to the castle and join the queue to get to the stone at its peak. It takes about an hour to wind up through the castle, and the narrow winding staircases seem never ending. Upon reaching the summit the wind nearly blows us off our feet, but wind or not we have a stone to kiss. When we reach the stone it's a quick 'Lie on your back and stretch your neck back, further, further, further, then kiss the shiny blue stone! It's supposed to give you the gift of the gab, but we don't know if it did too much. After leaving Blarney we head to Killarny in County Kerry where our hostel is to spend the night. After an Irish pub dinner and a few pints we squeeze into the top room of O'Connors one of the local watering holes to witness a one man story telling session by 'Pa' the strangest most intense and scariest yet entertaining Irishman we have yet to come across. A great/different experience was had by all and 'Pa' left us with these parting words "May you live as long as you want and may you not want as long as you live".