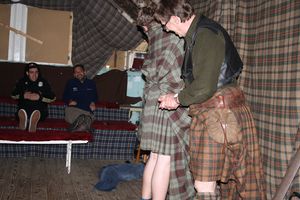 In true Scottish style we started the morning by dolphin spotting in freezing arse conditions and Stevie refused to let us get off the beach despite all our winging and moaning until we saw at least one. Thank goodness one measly dolphin finally decided to show its head so we could get back on the bus. The little blighter could have at least stayed above the water long enough for a blooming picture. At least we can now say we saw A dolphin in Scotland. Dolphin watching is thirsty work, so Stevie drove onto a wee organic brewery named the Black Isle to quench our thirst, before continuing onto Fort Augustus.
Whilst spending a little time in the township of Fort Augustus located on Loch Ness we met Ken a crazy old highlander with the knobbiest knees in Scotland. He taught us how to fold kilts and showed us how the Scottish highlanders lived and fought in the old days.
You might think knowing how to fold a kilt is not a skill you will ever get to put into practice, however later that same night after a few pints we found ourselves folding kilts on the floor and dressing ourselves up for a highland celli (highland party) which became one of the fondest memories of the trip not that we can remember all that much. Vague memories do arise however of Ben singing over the top of the one man band playing and the whole pub breaking into the old classic Build me up Buttercup much to the annoyance of the guy singing who had to just stop and let everyone finish before being able to continue and Simone dancing the 'Robot' in a kilt much to everyone's delight.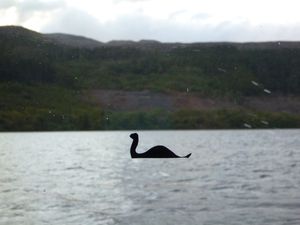 You can't come to Loch Ness and not go out monster spotting so we get on an evening cruise to do just that. We only catch a very quick eye of her in the water, and luckily manage to capture this on the camera and also get a close up with her on land, the cheeky monster.