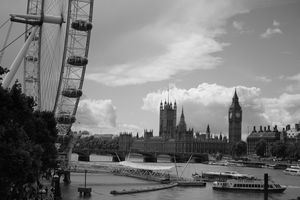 With our first official weekend in London approaching we want to make the most of it now that we have a home base. Friday evening sees us dine at a stunning Italian tapas restaurant near Leicester square, we nibble on baked goats cheese, olives salami and mini gourmet pizzas. Then off to a few more bars for more drinks before catching a movie released today, The Tree of Life, it had fantastic reviews. It was in fact a marathon 3 hours arty wank fest, but you take the good with the bad after all we were now living in London. The intentions were not to run ourselves ragged during our first official weekend as Londoners. However good those intentions were, they weren't followed through. In a whirlwind of events we managed to see the sites of London like we were on the amazing race. As it has been a while since our last visit to the mother country and her capital we felt a little reintroduction was required. So obviously the best course of action is to jump on big, red, open top bus, city tour, sit up top and take it all in, preferably not during a heavy London down pour. Never the less drowned rats we were our aim was achieved as we were reacquainted with many beautiful and familiar sites such as Big Ben, The London Eye, House's of Parliament, Buckingham Palace, St Paul's Cathedral, The London and Tower Bridge's. With many a great photo opportunity.
Fast forward about four hours and we are back on foot wandering though Trafalgar Square,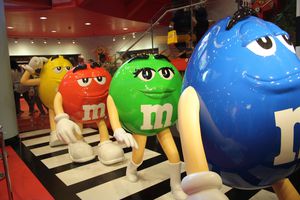 Piccadilly Circus and the west end, while strolling around we stumble upon a site to behold… M&M's world. Yes you heard correct, a world, rather a three level super store and play land dedicated solely to M&M's products. Sounds weird but they have cover every square inch (using inches, so London) with toys, t-shirts and collectables with M&M's gear and of course there are the M&M's, 50, 30ft (feet, you know where this is going) towers filled them to create the biggest pick and mix you've ever seen. Like kids in an over sized candy shop we bought a cup full of crazy colored M&M's and paid for times what you would at the local supermarket, but we were under the spell. And of course we didn't leave without a pin.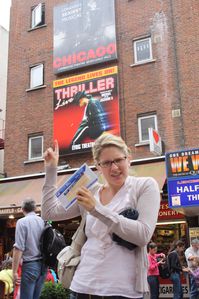 Whilst walking around London's West End it's impossible not to notice the bright lights and pretty signs advertising the never ending array of shows on offer and with about 70 theatres is London, there are a lot. On an impulse we were able to get our hands on the last remaining tickets for the night's session of 'Thriller', a musical tribute to the late Michael Jackson. The show was fantastic and more of a concert then a theatre show as we sang along to every song and spent most of the time out of our seats and on our feet, although at times the performance knocked us off them.
The remainder of the weekend saw us acquaint ourselves with our new suburb, Clapham and its surrounding neighborhoods, such as Vauxhall the location of our new fresh food market. It's a market only a 10 minute walk away under the railway overpass. It's an eye opening place filled with some very interesting people and some unusual sights and smells, including the unmistakable aroma of marijuana the smoky haze blanketed the entire area which made for good times. While there Ben mingled with some shady characters, actually that translates to, Ben bought some cheep jocks from a dodgy Rastafarian. We managed to buy our weeks fruit and veg for a whole 4 quid but don't worry it was a fairly reputable dealer; you know what we mean a fruit shop assistant. As well as the fruit and veg we got a months' worth of chicken breast for 10 pound from a crazy butcher, which will last us until we are off traveling again. We know ever so budget conscious and thrifty.