Friday, 3 - Saturday, 4 June 2011
After waking up to yet another glorious sunny day we spent most of the morning stiff and unabl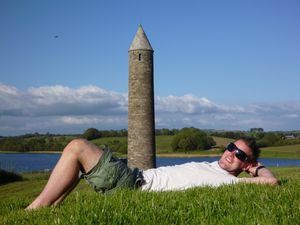 e to walk properly after yesterdays bike riding frivolities, but it was well worth it. To recover from the pain we stopped in a small village in the Connemara region named Leenane for a true Irish coffee which not only knocked our socks off as it was way too strong for that time of morning it also kept us alert for the next five hours. True Irish coffee is made with part coffee, a large part whisky and specially prepared cream on top. Too many of these and your day would be over pronto. After spending the morning driving through some beautiful scenery in the county of Sligho, listed in the top ten National Geographic scenic drives we made our way north up to a larger town known as Westport for lunch. Afternoon saw us head to Glenca waterfall before crossing the border into Northern Island.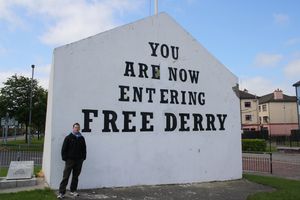 We listened to quite an extensive background into the troubles from Sean with the main point being the fact that today in Northern Island a long way has come to achieve peace. We were advised that the only real way to indicate we had crossed the border was the fact that the speed signs changed from kilometers to miles. However not five minutes over the boarder we noticed another subtle difference being the sighting of the police and bomb squad controlling a robot into a taped off area of someone's front yard. No real difference at all. Later on that evening a boat cruise to see the Devenish Island ruins was on the cards before hitting our rest stop for the night in Innerskillen, where apparently expecting a hot shower was too much so cold showers it was. With many bedtime stories and laughs in the form after lights out before hitting the hay.
Saturday saw the true Irish weather return, it was too good to be true, with only two whole days of summer had. Nether the less we had a walking tour of Derry to attend to try and begin to uncover some of the troubles experienced in Northern Island over the past 40 years. We sighted and walked under the Derry or Londonderry (depending on which side of the fence your on' city walls and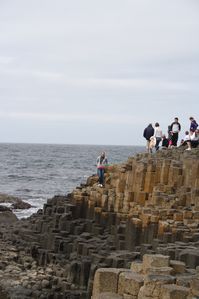 viewed some beautiful and captivating murals which represent agonising struggles and stories of bad times past. We walked through the streets of the Boglands where Bloody Sunday occurred and it was in this hour and a half where we began to understand how the troubles started and some significant recent events such as both sides recently surrendering arms and the British PM David Cameron apologising on behalf of the British Government for the their actions taken on Bloody Sunday 38 years ago.
With a lot to think about and food for thought we continued on to the Giant Causeway a National Trust site. This natural wonder is made up of around 40,000 hexagonal stone columns packed closely together as if to form a giant stepping stone pathway into the sea. After some hiking around it was then onto our next destination the Carrick-a-Rede Rope Bridge, for some great sea views, on a tiny isolated island, before heading into Belfast for the night.