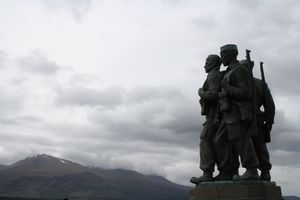 `You take the high road and I'll take the low road and I'll be in Scotland before you! Weaving between picturesque mountains Glenda carries us safely through four seasons of weather which is experienced in about 30 minutes. In bleak conditions we traps down the valley of Glencoe where Stevie gathers us together in a huddle and speaks to us of the bloodshed which occurred when the Campbell's massacred the McDonald clan, around 300 people including women and children in the dead of the night. From here we visit the Commando's War memorial which was a somber experience, especially seeing the markers of recently fallen soldiers in Iraq and Afghanistan some as young as 19.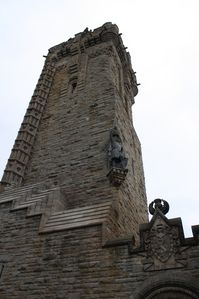 After some time to reflect, followed by a quick bite to eat Stevie decides last minute to take Glenda off the beaten track and we almost career onto what seems a never ending and winding cobblestone road which finally takes us to the grave of the brave Rob Roy Macgregor who passed on 28 December 1734 aged about 70, which is a fine ripe old age for a Scotsman during this time. The drive back to Edinburgh through Sterling is stunning. It is here we have our final stop which is the great monument of William Wallace who most people are now familiar with after the movie Braveheart. The monument is perched at the top of a very steep hill but offers breathtaking views of Sterling and well worth the effort to climb there even if Stevie makes us do so in 7 minutes!
It is then we reach the pinnacle of the 7 day tour where we meet a very hairy, large footed and horny Scotsman. A very accurate reflection of a true highlander being Hamish the hairy coo oo and Heather along with their new baby calf Honey. After feeding them way to many potatoes it's time to bid farewell and move on. As the tour draws near with 40kms to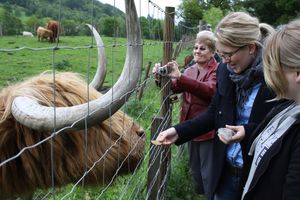 Edinburgh one thing resonates in our minds which Stevie previously said, ' You will know when you find DSL, there will be no mistaking it' and DEEP Scottish love is exactly what this tour has given us.
On arrival back in Edinburgh we have to scramble to find a place for the night as we have none booked. We check a few places out and around and discover we could spend between 21 pound up to 4oo pound a night. We splash out, however not quite to the extent of the 400 a night room but rather a more modest 99 pound room at the Old Waverly Hotel which has a massive room, a huge double bed and our very own ensuite!! The Old Waverly Hotel on Princess street, with a view over EDINBURGH Castle, many monuments and city Gardens, is well worth the 99 pounds paid after 9 nights in dorm rooms with more to come in Ireland. An early night and some R and R along with a bottle of Australian Shiraz was just what we needed to recharge the batteries to a face a new country and new adventures in the morning.