England - London (August)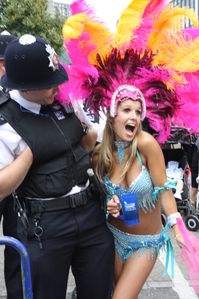 Rrrribbbbba…. Le carnival. This weekend the Nottinghill Carnival takes place where you can be in London and feel like you are in Brazil. Things get pretty crazy. It's like one of Europe's biggest street parties, but first we will rewind to Friday. So it's Friday night let's take a walk down Brick lane, no we are actually on Brick lane for footy going away drinks at the Pear and Apple bar. After many a drink and a late night stop at Nando's with friends it's home to bed. Saturday sees us wander around Portobello road markets again, which is already one of our fav haunts. There is so much old and new brick a brac. After a few drinks and a wander around it's off to meet friends in China Town for Ben's birthday which was on Thursday. We did go out for dinner and drinks at our local called Stonhouse on his actually birthday, so it's not like he had to wait until the weekend to celebrate, its ok! The pair of us, Tom, Glenn and Sophie took a walk through the village until we found a nice cheap restaurant to eat at, where we shared a five person banquet. Our table was strategically placed under a money tree but we haven't seen any of this supposed cash yet! Ahhh probably because we are spending it all on travels. The banquet was really nice.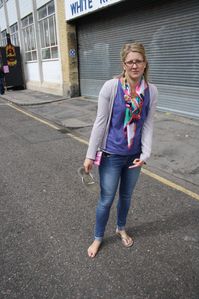 Sunday as previously mentioned is Carnival! We caught the Tube to Nottinghill station and so did everyone else apparently. Tomorrow (Monday) is a bank holiday which is a nice surprise, we only just found out this week. Over the three day long weekend apparently over one million people descend to the Notinghill area. Armed with vegetarian samoses and pints of Pims we weaved through the stalls. With lots of show girls, floats, Jamaican food and music the afternoon was lots of fun, then Simone went and broke one of her thongs/flip flops (not g-string) and we spent some time hobbling the streets trying to avoid all the broken glass. We then managed to get to a first aid area where they surgically tapped her thong onto her foot. Problem solved. She did look a bit like a homeless bum with her shoe ridiculously tapped to her foot and got many a weird look. The floats in the parade were pretty amazing and the costumes were stunning with all the colour, feathers, sequins and glitter and the music was so lively and infectious it really got everyone in the mood. As the afternoon and festivities went on we realised the festival really was an excuses for the men participating to rub up against as many women as possible, what a horn fest. All the same it was a very fun and crazy afternoon.
Sunday night back at the pad was good for DVD watching and grazing on food. Monday saw us try to do some serious planning for our travels coming up; the only problem was we couldn't make our mind literally. All we knew was that we were going to Oktoberfest in Germany for 5 days. By about 2pm we had decided on Scandinavia (Denmark, Iceland, Norway, Finland and Sweden) then we decided to tack on some of Eastern Europe to do on our own. That ended up too expensive so by 3pm it was just Scandinavia but that wasn't long enough. 4pm saw us try a different approach and we looked at Africa but visas and immunisations meant too much effort in too shorter time. We also looked at Morocco, Russia and Canary Islands. At 8pm we still had no idea and way too many travel brochures. Why are there so many countries to see!