Germany - Oktoberfest (September)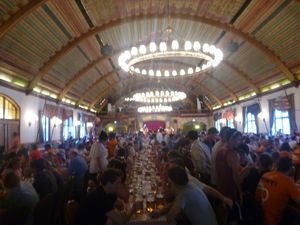 "I'm prosting, I'm prosting". Settle down we are not there yet. The alarm goes off at 3:30am and we scramble out of bed pull on our clothes, brush our teeth, grab our bags that are already packed by the door and we are away. On the road again, just can't wait to get on the road again goin' places that I've never been, seeing things that I may never see again and I can't wait to get on the road again. We are met by Tom and Glenn at the bottom of our driveway, and then together we take two buses as well as a train to the airport, then board a plane to Stuttgart Germany. There we join our Busabout crew for another bus ride to Munchin 3 hours away. We should note for memories sake that at the train station in London Tom and Glenn were conned by a random stranger who sold them dodgy tickets at an overpriced cost. It wasn't until they were on the train that they realised that they had each paid different amounts for the same tickets, of which the return parts were out of date. Rookie mistake. We will make sure that they never forget it.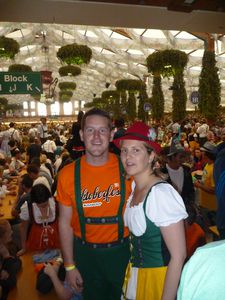 On arrival in Munchin we checked into our hostel called Wombats. We had a six person dorm which we shared with Tom, Glenn and the lovely Courtney and Kaisha, who live on the outskirts of Perth. After check in the group embarked on a city orientation walk, to get to know the surroundings. During this we took in a few local landmarks and sites including; the Glockenspiel, the Frauenkirche church which supposedly houses the foot print of the devil along with the Viktuelienmmarktv (markets behind Marienplatz the main square). The city tour ended as it inevitably would where else but at a beer hall in particular the Hofbrauhaus House, which is Germany's largest and most famous beer hall. It was here we had our first steins or even a few in order to warm up for the festivities ahead over the next few days. Saturday morning arrived and we awoke early, some hadn't slept much because of anticipation, others had passed out from too many pre drinks and others were just still drunk. Either way we were all dressed up in our best German beer drinking outfits, yes that's right all strapped into our lederhosen and dirndls, ready to hit the beer tents. A short walk through the Munchin streets led us to the show grounds.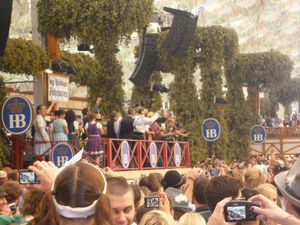 On reflection looking back at our group walking to the grounds there was an endless line of us. It was almost like we were holding our own parade, but the official parade would be later, we were on a mission and that mission was to get BEER. There were over 250 Busabout travelers and over 1000 Fanatics (the rival tour group) it was crazy. There were over 14 tents to choose from and our group decided on the Hofbrau tent after sampling there product the night before and enjoying it. The next part is where it gets a little crazier. You basically pushed your way to a door, there were about 12 around the tent, and then you wait, wait, wait and wait. It was about 7:30am and the doors didn't open until 9:00am, but you needed to be there early because even at this early stage in the morning there was us and about 20,000 other people waiting. The crowd was mostly a mix of Australians and Germans. You could tell who was German because they had packed with them breakfast and coffee or some cheeky pre drinks for the wait in line. In the meantime the rest of us got cold, a bit wet and rowdy.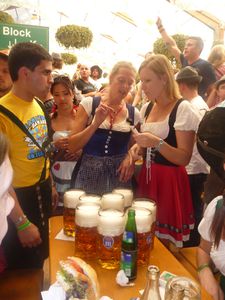 Eventually by the time the doors opened at 9:00am we were well and truly over the waiting and the stampede that followed would not have been out of place a world away on the plains of Africa, in a particular Disney movie about a young lion and his journey to obtain the unobtainable glory to become king (in our case the king part is replaced by beer). Body's were squashed together to become a combined mass that moved as one, first from side to side then up and down. Your feet were lifted from the ground and without control you were thrust in every direction, until squeezed through the bottle neck door into the tent. Once inside it was a mad scramble to get tables and find a seat because you see the rules are 'no seat, no beer'. We found our spot and took our seats, ever protective of our territory hissing at anyone who came near it (just kidding but you had to stand your ground or you would get taken over by a stronger group). With our hearts still thumping out of our chests we caught our breath and as all the commotion carried out around us we took a moment to stop and take it all in. The beer tent we were in was the largest of about 14 tents at the festival. It apparently fits about 100,000 people as our tour guide advised the day prior. It is a fully covered massive hall with wooden walls, no windows, exposed wooden beams supporting the roof which is filled with skylights, which let in the rising sun. Rows upon rows of trestle tables filled the entire room.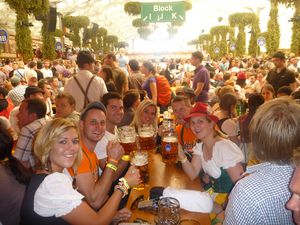 A raised platform in the centre housed the band and around the perimeter were food stalls and souvenirs. When people had stopped running all over the place the waiting started again. Being the first day of Oktoberfest, as tradition states no beer can be served until the head brewer of each of the 14 brewery houses has tapped the first keg at 12pm. We had another 3 hour wait ahead of us. Sitting around the table chatting we realised everyone on our table were Aussie's living in Clapham, so not only had we made some new drinking buddies but they were all our neighbours.
When 12pm finally arrived it was glorious and the beer flowed, the band started up and so did the singing and dancing and the party started. The next few hours and two days was a bit of a blur at times. Simone joined the girls so she didn't have to try and keep up drinking with the boys which was such a ridiculous idea anyway and went to see the elaborate opening parade through the main streets staged by the head brewers. The girls also dined in the heaven tent on beer and pork knuckle, which gets its name as the ceiling looks like heaven and even had to stop for photos for a Chinese tour group who thought she was a traditional German because of the whole outfit and all. In the end we had to tell them to wrap it up, it was getting out of hand and there were way too many wanting photos. Ben woke up in hospital on the second day after falling from a height and putting his hand through a beer stein and Simone continued drinking in the heaven tent with the girls, but all was good as he was stitched up and on the bright side it ensured that we met back at the hostel a bit earlier than expected. As luck would have it one of our favourite bands Gypsy and the Cat were playing at a club in the city that night. We went along and the small venue ensured a magical and unforgettable night.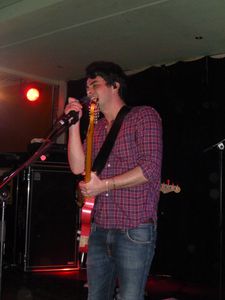 Being in Germany the last few days and having seen nothing really other than the Oktoberfest showground's we decided to do something cultural and joined a day tour on Monday to Neuschwanstein Castle which was a good three hour drive. On the way we got the opportunity to see lots of the German country side and it was stunning. Now we know Neuschwanstein Castle probably means nothing to you but actually you've all seen it before….. don't give us that look, you have. Neuschwanstein Castle is actually the image used by Walt Disney himself for the logo of the Disney brands that you see everywhere. See we told you! The castle and the village itself were nestled neatly in the mountains offering amazing views of the snow caped hills surrounding us. It really was like out of a fairytale. Carefree Caitlin one of our Oktoberfest tour guides failed to tell us until we were on the bus and well and truly on the way that where we were going would have snow. Instead Caitlin advised us once already on the bus to 'be creative with layers'. Good one Caitlin! We wandered up the huge hill in the drizzling rain and had a tour through the lavish castle. This was great to do as we heard a lot about the history relating to the castle as well as the king who built it, who actually sounded a bit loopy, with an unhealthy fascination for swans.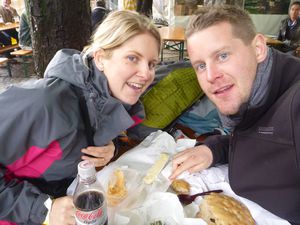 Once back in Munich we had an awesome dinner with the girls Kaisha and Courtney, along with a further wander around the grounds where we indulged in a few rides and games. After this we were all exhausted. The next day we went souvenir shopping around Munich and wandered until it was time to catch the train to the airport for the next leg of the adventure. We now head to Eastern Europe. We don't know how much you do or don't know about Eastern Europe and the countries we are about to visit. At the start of the blog we did say reading the blog would be like taking you with us, so it is our job to educate you somewhat as we go with a little background on each country. That way we can learn to together and discover the big wide world out there.